Napoli 4-1 Roma: Game Of Numbers Starring 'El Matador'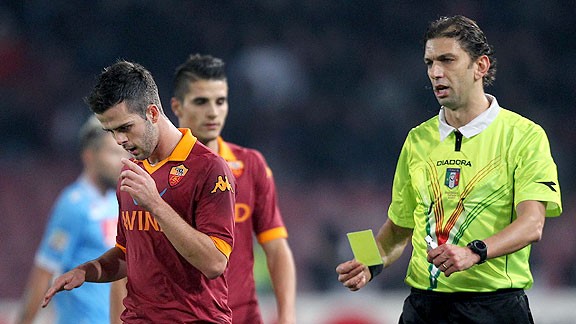 Maurizio Lagana/Getty ImagesMiralem Pjanic's second yellow card ended Roma's comeback hopes
The threes are especially depressing from Roma's loss Sunday. Don't say I didn't warn you.

2. Two yellows equals a red. Miralem Pjanic had much time to ponder this as he took the longest walk off the pitch in football history following his expulsion.

3. A hat trick from Edinson Cavani, 'El Matador'. A truly world class player who unfortunately decided to remind Serie A tonight.

3. Goran Pandev had three assists. Goran. Pandev.

3. Also Marquinhos' number – an enormous loss Sunday for Roma, who gave Cavani and Co. simply too much space at the back.

4. Minutes it took in each half for Cavani to score, putting Roma quickly on the back foot both times.

7. Cavani's jersey number. Add on seven zeros and you might have his current worth in the transfer market.

9. Pablo Osvaldo, who came on a subsitute in the 62nd minute. was clearly missing up front for Roma. I believe his physicality is not something Mattia Destro can replicate. The latter was forced wide by Francesco Totti Sunday and looked a long way from in form; Osvaldo scored within 11 minutes after replacing Destro.

10. Pjanic's expulsion left Roma down a man with 15 minutes to go, just when it looked as if Roma might be able to wrench a goal.

11. Starters who underperformed for Roma – save, perhaps, Ivan Piris, who alone continued the good form with which he ended last year.

15. Fifteen shots wide for Roma tonight. FIFTEEN.

65. Roma's percent of possession, which resulted in a single goal.

23. Missed chance after missed chance – Michael Bradley's header wide just before Cavani scored his third could have changed the game entirely, and Erik Lamela was also guilty of poor finishing. Between the nine shots on target and the FIFTEEN off, Roma had 23 opportunities to score.

1. Times Roma did score.

My ratings: Gioco 6; Piris 6.5, Castan 5.5, Burdisso 5.5, Balzaretti 5; DDR 5.5, Pjanic 6, Bradley 5; Totti 5.5, Destro 4, Lamela 5. One to forget, and forget Roma must.

Roma manager Zdenek Zeman after the match: "In calcio the goals count. We didn't score them and Napoli did. We play a zonal defense on set pieces and we did something wrong. We lost because we did poorly and it happens. Jet lag had no effect on the performance; we constructed 6-7 good attacks and they scored theirs with just four. We tried to keep Cavani close. The championship is long and I'm glad that we're trying to build and play."

This is certainly not the way Zeman wanted to begin 2013. Following a superb run of form to end 2012, Roma headed into winter break with a bit of spring in their step. The subsequent trip to Florida's Disney World will now be under scrutiny, however, as the capital side looked lethargic and out of ideas at the Sao Paolo against Napoli. Zeman's words to the contrary will do little to assuage those looking to find a reason behind the poor performance. Yet there were few moments when this side actually resembled a Zeman side, nevertheless the one that came into the game in such good form.

Next up: Catania away next Sunday, minus Pjanic, plus Marquinhos.