Roma bounce back after cup heartache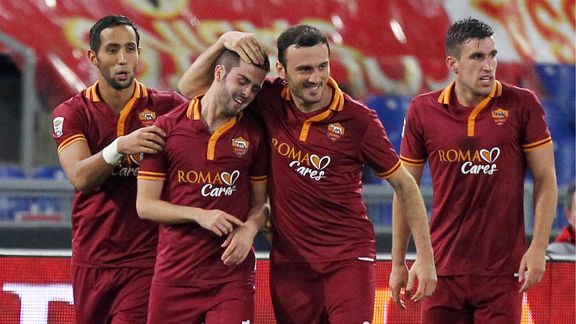 GettyImagesMiralem Pjanic celebrates with his teammates after scoring Roma's second.
Mattia Destro's 44th minute opener came as a sigh of relief. After numerous missed chances -- this narrative sounds familiar, doesn't it? -- scoring the opening goal was a vital step for Roma towards putting the midweek Coppa Italia loss vs. Napoli well and truly behind the team.

That goal should not be underestimated. Napoli rode the confidence they took from the midweek win to a win over Sassuolo earlier on Sunday, closing the gap to second to just one point, albeit after having played two more games.

Juventus, too, shook off a minor scare against Chievo to extend their lead in first. In the late game, all eyes were on Roma, who knew a win was simply necessary to maintain second and to keep the gap to first from reaching double digits.

- Roma see off Sampdoria

It's not difficult to imagine this as a hurdle over which a less mentally strong side would have fallen. A side not unlike the Roma of the past few seasons, for example.

Clearly, however, this season's side have proven again and again just how different they are. Early during this match, for example, it seemed that odd combination of bad luck and finishing might cause old ghosts to haunt, such as when Kevin Strootman somehow failed to score after a terrible mistake at the back from Sampdoria, or when Gervinho chipped the goalkeeper but saw his shot cleared before it could cross the line.

It took inspiration from another Roman born-and-bred to break the deadlock, with Alessandro Florenzi finding Destro's head from a corner. The 22-year-old put a swerve on the ball to tuck into the far post and celebrated by removing his shirt (something he probably should stop doing).

Luck from then on seemed to swerve Roma's way; Medhi Benatia got away with a handball in the box, surely more egregious than the one Sampdoria got away with earlier, and the side went into half-time with a crucial goal.

The rest of the game was never really in doubt. Nine minutes after the break, Miralem Pjanic doubled the lead with a fantastic free-kick to round out his best game since he banished Napoli earlier this season and three minutes later Destro had a second after a great Gervinho pass allowed him to spin past a defender and smash the ball into the roof of the net.

This is the Destro who fans often jeer for missing easy chances but who is now the side's leading goalscorer in Serie A -- with six goals in six starts -- despite missing much of the season. All strikers need continuity and confidence to play well, and the young Italian showed what he is capable of with both of those today.

It could have been a typical "No Totti, No Party" kind of match, with the captain sidelined due to a gluteal injury and, with Daniele De Rossi benched, the narrative if the side had lost would have been predictable: Roma rested starters, their best players, their veteran Romans, and were defeated.

Instead, Pjanic shouldered the creative load, Destro the goalscoring, and Radja Nainggolan put in a performance so strong De Rossi was hardly missing.

However, the injury situation at the back is getting more and more worrying as Douglas Maicon went off a hamstring problem and Benatia suffered a groin issue, but hopefully neither is terribly serious.

For today, however, this side, missing some very key players by the end, did exactly what they needed to do. And that's a very welcoming sight.