Time to get back on track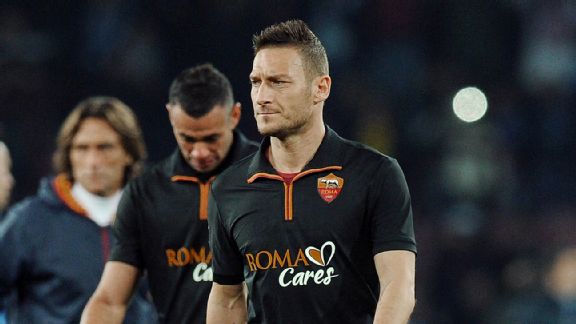 Giuseppe Bellini/Getty ImagesFrancesco Totti and Roma hope to bounce back from their Coppa elimination with a win on Sunday against Sampdoria.
The last time Roma suffered a defeat -- the only other time this season, actually -- the team bounced back about as well as anyone could have hoped. The 3-0 away loss at Juventus was quickly forgotten as the side marched onto six wins in a row between the Coppa Italia and the league. Unfortunately, the latest setbacks -- the derby draw against Lazio and the loss to Napoli in the Coppa -- seem to have made most forget just how resilient this side was last time they lost.

- Report: Napoli 3-0 Roma

The goalless snoozer of a derby is not really much to get upset about. Surely the side cannot score in every match, and complaining about a draw is a reality mostly reserved for Barcelona and Real Madrid. The loss to Napoli, however, still stings, perhaps not just because it was a rare loss for this side but also in the manner that it happened: a close to full-strength starting eleven struggling to score up top and looking as vulnerable as ever in the back.

Manager Rudi Garcia's job after results like these is to remind the side what Alfred told Bruce Wayne in Christopher Nolan's Batman films: "Why do we fall? So we can learn to pick ourselves up." With just six draws and one loss in the league, Roma are still in second and own a four point gap over Napoli and are nine points behind Juventus, and with a game in hand still left to consider. The possibility of a massively successful season is still there, as long as the side gets back to winning ways ASAP.

However, there are probably easier teams in the league to beat than Sampdoria, Roma's home opponents on Sunday. With three wins in their last five games and Manolo Gabbiadini in good scoring and assisting form, the visitors have only lost to Juventus in recent weeks, and that was despite scoring twice. They have scored in every one of those last five matches, which means this will be a crucial match for the Roma defense that seeks a return to form. With Federico Balzaretti and Dodo still out with injuries, either Vasilis Torosidis or Michel Bastos will have to have a much better game than they had against Napoli, assuming Douglas Maicon can return to the starting lineup.

Equally as important, however, is that the frontline gets back to goal-scoring ways. Unfortunately, there does not seem to be any magic trident that always guarantees goals, especially with so many sides looking to defend in numbers against Roma. Gervinho-Mattia Destro-Adem Ljajic failed to put one past the shaky Rafa Benitez defense, but even the Alessandro Florenzi-Francesco Totti-Gervinho trident that was so potent early this season failed to find a way to break down a Lazio side that went into the derby merely looking not to lose. Sampdoria's approach may not be very different this weekend; Roma's end product surely must be.

There are a few other issues to deal with: Miralem Pjanic has been surprisingly ineffective by his own standards in recent weeks, which may mean more time for Radja Nainggolan to step into the midfield, to name merely one of the trio of starting midfielders who seem to be off in the last few matches. None of this should be news to Garcia, however, and hopefully none of it will matter very much on Sunday. Roma's job is to step out on their home pitch and earn three points against Sampdoria to prevent the heat from rising should Napoli win and Roma not.

Roma must pick themselves back up again.