Michael Bradley's first six months at Roma: An American establishing himself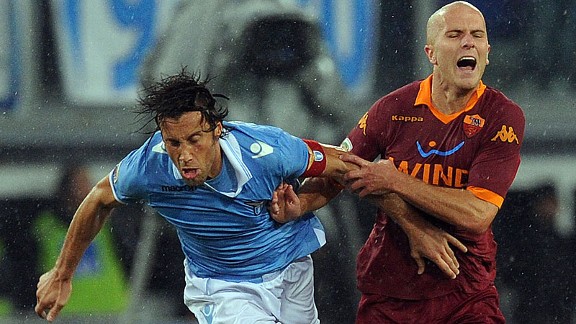 GettyImagesMichael Bradley tussles with Lazio's Stefano Mauri in the Rome derby
Out of all of the transfers that made their way to Roma this summer, perhaps none are as fitting as the arrival of Michael Bradley. Certainly, each has his own interesting narrative - the rise and rise of Marquinhos; examining the expectations versus reality of Federico Balzaretti; Mattia Destro's intriguing role up front, just to name three - but an American player, on an American owned team, who earned his spot not just because of his nationality. Bradley has proven to be a technically gifted player in his own right and serves as a great complement to the other midfielders on Roma's squad.

The 25-year-old New Jersey native had an advantage not seen in some of the other arrivals who made their way to the Italian capital last summer: a familiarity with Serie A. After an unsuccessful loan spell at Aston Villa in the first half of the 2011 season, Bradley secured a transfer out of Germany and into Chievo, quickly becoming a mainstay in the side's midfield. His nickname soon became "Captain America" due to his voracious running, notable playmaking abilities, and undroppable form. Bradley demonstrated that he was just as comfortable playing in Italy as he was in the American national team.

His year was so impressive that a transfer seemed inevitable by the summer of 2012. Initially it seemed as though Palermo would snatch him up, but it was their former sporting director Walter Sabatini who managed to secure his signature on a four-year deal for Roma. He seemed to be a replacement for the departing Fernando Gago as his physical attributes perfectly suited the typical running and hustling of a Zdenek Zeman side.

Thus it was no surprise when he started in Roma's first match of the season, in a three-man midfield alongside Daniele De Rossi and Miralem Pjanic. The American had a solid debut, even assisting Roma's second goal of the match, but quickly found himself sidelined with a groin injury. His return against Atalanta on October 7 proved more successful as he scored the second goal of the match to give Roma a 2-0 win. And it's been a dream ever since.

Well, not quite. Bradley, like every Roma midfielder at one point or another this season, has spent time on the bench as Zeman tinkered with the three men in the middle of the pitch. His turn on the sidelines looks to have been mostly confined to the month of October. His next appearance after the Atalanta match was weeks later, in a 3-2 loss away at Parma, but Bradley has started in every game since then.

Until now, the American has played fewer matches in the midfield than only Panagiotis Tachtsidis and Alessandro Florenzi. His 12 appearances - only one of which has been a substitute - are more than Daniele De Rossi (11 apps, 3 substitute appearances) and tied with Miralem Pjanic (12 apps, 3 as a sub) and Marquinho (12 apps, 11 as a sub). In total, he has spent 929 minutes on the pitch in Serie A. A figure nowhere near the likes of Francesco Totti (1400) and Ivan Piris (1335) but just about the same as Tachtsidis (948).

One goal and one assist in 12 appearances may appear unimpressive, but Bradley shines in a way that belies football scoring statistics. His best attribute is in allowing others to do their jobs more effectively - he shines next to the likes of De Rossi and Pjanic because his running provides a stable platform for them to do what they do best. It's not flashy, and he is guilty of occasionally losing the ball with some wayward passing, but he often is incredibly effective at helping Roma keep possession. Bradley averages an 86.8% passing success rate, having completed 461 out of 531 total attempted passes so far this season.

His dribbling is solid, his reading of the game insightful, and his movement often very useful to the team keeping balance. He also provides a good aerial threat for Roma, standing at 186 centimeters tall (making him the sixth tallest member of the squad, and usually the second-tallest on the pitch behind only Tachtsidis). Finally, he's humble, a truly rare attribute in the football world. Bradley has consistently downplayed any praise, stating instead that he simply wants to work his best to always help Roma achieve all that they can.

Has he been the revelation Serie A saw at Chievo last season? Probably not, but the element of surprise is no longer there. The peninsula is accustomed to solid performances from Michael Bradley by this point, and fortunately for Zeman, so are Roma.