Recapping a very busy, nearly finished mercato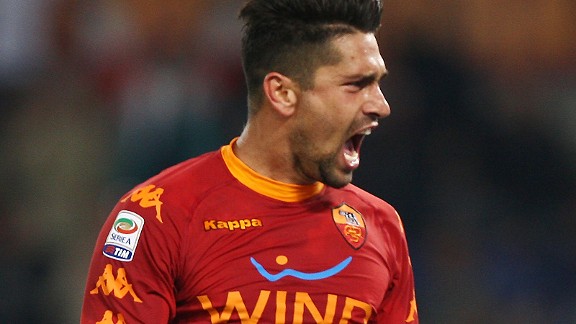 AllsportMarco Borriello has found another new home at West Ham United.
A very busy January mercato has not yet ended for Roma. Following the departure of Nicolas Burdisso to Genoa, Marco Borriello has also found a new temporary home while several of the side's younger players have had their short-term futures sorted as well.

While there might not be any more arrivals on the scale of Michel Bastos and Radja Nainggolan, rumours continue to swirl that Leandro Paredes will be sent to Chievo on loan. Interestingly, Roma have not officially announced the acquisition of the 19-year-old attacking midfielder, but he has been spotted at games, and Boca Junior's president, Daniel Angelici, confirmed earlier this month that he would be heading to the capital on an 18-month loan deal, with Roma immediately shipping him off until the end of the season.

Walter Sabatini's penchant for young talent also looks likely to bring 17-year-old Barcelona B striker Antonio Sanabria to the club on a permanent deal for 4.5 million euros. Much like Paredes, he seems set to be loaned out to Sassuolo until the end of the season, at which point Roma will have to evaluate their non-EU slots and make a decision about where the duo will be playing. Along with Mattia Destro and Nicolas Lopez -- on co-ownership at Udinese -- Sabatini has stockpiled a wealth of young attacking options for the club.

The youth movement continued with the club officially announcing the destinations of five current players as well. Gianluca Caprari was sent to Pescara on co-ownership in a deal that brought Roma 1.5 million euros. Giammario Piscitella, who made a couple of appearances for the club under Luis Enrique, will be joining Caprari, whereas Federico Viviani will head to Latina for six months with the club having an option for co-ownership in the summer, though Roma can block it if they choose. Alessandro Crescenzi is heading to Novara until the summer, and goalkeeper Tomas Svedkauskas is also heading on loan to Pescara, with a similar option to buy that Roma can block.

Finally, the biggest departure is certainly Borriello, who has joined West Ham on loan until June for a fee of 700,000 euros. This is now the third club Borriello has been sent to on loan since joining Roma back in 2010, with his high wages clearly a sticking point for any team that might desire to buy him permanently. His contract is up next summer, and the club will certainly be happy to free up a heavy earner who has not been in the plans of any of the team's recent coaches, much less Rudi Garcia's.

With a couple of days still left on the transfer window, this might not be the last of the moves that Roma makes. It is safe to say, however, that this is certainly the most active Roma have been in the transfer market in January in quite a few years and have smartly added depth and youth to the side while trying to find homes for those who need playing time.