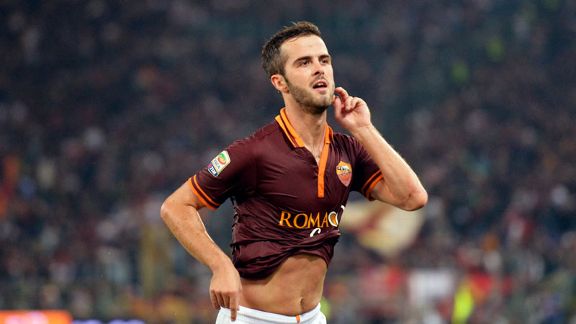 GettyImagesPSG transfer target Miralem Pjanic will not be leaving Roma.
On Friday, Paris Saint-Germain coach Laurent Blanc spoke of his desire to acquire a midfielder, specifically mentioning that Miralem Pjanic was a possibility for his side this winter transfer window.

From a Roma point of view, the timing of the words were off. Just three days ago, Rudi Garcia stated that Pjanic was an important player and would be so next year as well, strongly implying that the player would not leave the club before his current deal expires in 2015.

PSG, looking to tempt the Italian side, then found themselves on the end of a public declaration from Roma: "AS Roma would like to stress that there are no talks underway regarding the exit of Miralem Pjanic. The player is not for sale."

That's not equivocal. That's not a "well, maybe for the right price" kind of scenario that saw Erik Lamela and Marquinhos leave the club for extraordinary money. That's a powerful statement from a club finally in a position to make powerful statements.

Not that the club hasn't done so before. After last summer's spree, which saw Pablo Osvaldo also leave, Roma had acquired a bit of a reputation for being a selling club, not unlike Udinese. Take young players, watch them blossom, and turn them over for a profit. This kind of strategy is good for balancing the books in the short term but in the long term, is rather unsustainable. There are only so many gems that one club can uncover, no matter how good the scouts are. For proof, look at none other than Udinese itself this season, in fifteenth place, with six wins from twenty matches and not much direction as captain Toto Di Natale is set to retire and Francesco Guidolin looks constantly on the verge of leaving the club.

Except, maybe, Roma's intention was not to become like Udinese. Maybe the club did not want to continually sell its best young players. Maybe, like Walter Sabatini spoke about earlier this season, that particular strategy was necessary just this past summer, for two main reasons.

One, without Roma being in a European competition for the second straight year under Thomas Di Benedetto and James Pallotta, revenue was an issue. Two, the season that ended so disappointingly with the loss to Lazio in the Coppa Italia demonstrated that the club's attempt to focus just on youth was not working out. Selling Lamela and Marquinhos, amongst others, would bring in the funds to compensate for the first and address the second, making way for Medhi Benatia and Adem Ljajic while shrewd and cheap deals for Morgan De Sanctis and Douglas Maicon added weight to the side.

Roma's response echoes as much. The side are, in fact, very capable of keeping the players that it truly wants to keep. Daniele De Rossi became the highest paid player in Serie A following his contract renewal in 2012 after months and months of speculation about leaving the team. Maicon's 3 million euro a year contract makes him the fourth highest earner on the team, despite just joining last summer, and Francesco Totti's contract was renewed without much fuss, rounding out the three of the top four earners in the side.

Though nowhere near the level of Manchester City, Real Madrid or PSG itself, Roma have proven that they are able to meet the salary requirements of players on the more expensive end of the scale, under certain conditions.

Binding Pjanic to the club follows a similar path. With Nicolas Burdisso now gone, six players earn more than the Bosnian's 2.1 million euro per year salary, and he would be able to make much more than that with many other teams. If Roma offer him an extension and wage increase and push for a Champions' League spot at the end of the season, however, the need to cash in on one of the side's best players becomes much less than it was at the end of last season.

This hard line is good. It would be one thing to see players like Marco Borriello tied to long contracts with massive wages and another to see Pjanic leave the club making almost half of what the Italian striker makes. For Roma to be economically successful there must be a careful balance between wages paid to the players and money brought into the club, but to be successful on the pitch, keeping a player like Miralem Pjanic is not really up for debate.