Coppa win over Juve worthy of celebration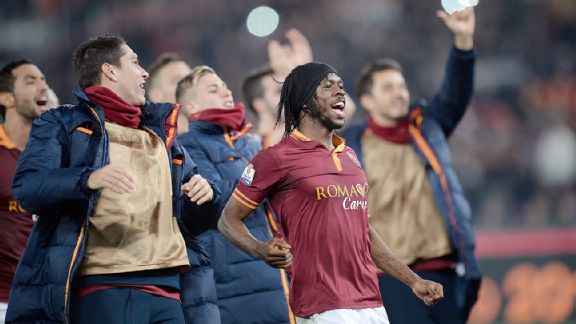 Filippo Monteforte/AFP/Getty ImagesGervinho and Roma were all smiles after eliminating Juventus from the Coppa Italia quarterfinals.
After the first half of Roma's home win over Juventus in their Coppa Italia quarterfinal, Rudi Garcia's decision of not starting Mattia Destro looked like a very bad mistake that could come back to haunt the side. By the end, it was his substitution of Miralem Pjanic onto the pitch instead of the young Italian striker that won it.

- Match stats: Roma 1-0 Juventus

It was a gutsy call and it could have been the wrong one. It was also decisive and in retrospect, was absolutely the right one.

It was not an easy game for Roma, as games against Antonio Conte's team rarely ever are, but it was yet another fantastic performance. Like the two games before this, Roma restricted their opponents to not a single shot on target. Perhaps had Carlos Tevez and Fernando Llorente played the whole match, the result would have been different. But if Conte's team selection failed to help his side progress, Garcia's personnel choices helped Roma win the game.

Through to the semi-finals, the game puts the spotlight solely on Pjanic. A very bright light once he came on, his contract expires next year and Roma will absolutely want to resolve the situation sooner than later. Garcia speaks often about reinforcing the side for Europe, and thus a sale would obviously be very unfavorable; if he fails to sign soon, however, rumors about his departure will only continue to grow.

For the moment, however, the team should celebrate. The first half was a lively affair, often dominated by Roma but without much of a cutting edge. In that respect, it was largely like the previous match-up between these two sides earlier this month in the league, but without Juventus scoring. The home side's profligacy was highlighted as Alessandro Florenzi and Gervinho were effective at getting wide, but left the side with no one to finish off fantastic balls cut across the box in front of Juventus goalkeeper Marco Storari.

It was widely expected that Destro would come on after the break, but Conte made the only substitution, with Angelo Ogbonna on for Giorgio Chiellini. Soon after, Juventus had scored but from a cross that drifted out of play. Roma slowly began to work back into the match, one that seemed destined for extra time until Pjanic's substitution. The rest is written in the scoreline.

Neither Roma nor Juventus have won anything yet this season, but this only feels like another scalp, a tiny bit of revenge after their recent 3-0 loss. That league match may have been more important for the Scudetto, but if this win helps Roma on their path to a trophy this season, without losing steam in the league, it may be viewed in hindsight as tantamount as well.