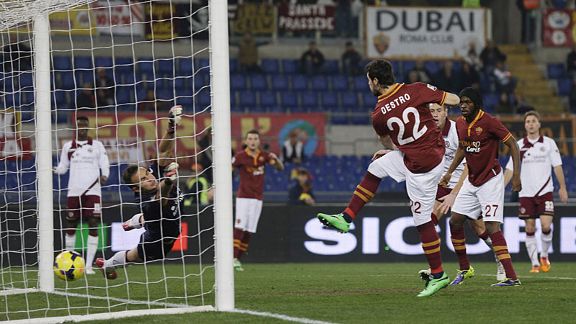 GettyImagesMattia Destro fires Roma into an early lead at home to Livorno.
The old banner might say "No Totti, No Party," but Rudi Garcia left the club captain and full-back Douglas Maicon out of his starting line-up against Livorno and the home side waltzed to a 3-0 victory anyway.

In fact, it was rather pedestrian. The home side dominated possession, 65 percent to 35 percent, and completely outclassed the visitors in terms of shots on target and corners (seven and eight respectively for Roma, with zero in both categories for Livorno!). Attilio Perotti's first game back in charge of Livorno had a honeymoon period of roughly six minutes before Mattia Destro put Roma ahead.

• Report: Roma 3-0 Livorno

With Destro in such inspired form, scoring one goal, playing a vital part in the second, and having another chalked off for offside interference, Totti's absence was not so strongly felt. Perhaps this was due to the level of opposition -- Livorno are now dead last in the Serie A table -- but Adem Ljajic also had a very good afternoon (making up for a poor showing from Gervinho) to help guide Roma to victory alongside Kevin Strootman's opportune strike.

Besides Francesco Bardi, whose heroics kept the scoreline from reaching six or seven goals, it was Ljajic who ran the show. He completed 65 out of 74 passes for an 88 percent pass completion rate and was all over Livorno's final third, tormenting the area outside of the box and to the left of Bardi's goal. With Daniele De Rossi and Vasilis Torosidis also having very good games, Roma were rarely troubled, even after taking several feet off the gas following the second goal and during long stretches for the second half.

The fact that the side could relax for so long and still keep a clean sheet is a reflection of just how far Garcia has taken the side this season. Last year, such laziness often allowed opposition to creep back into matches. This year, Mehdi Benatia and Leandro Castan have built such a wall that the side have now conceded 40 percent fewer goals than Juventus, who have the second best defence in the league, and half of the goals that Napoli and Fiorentina have conceded (20 each).

After the match, Garcia revealed that the club are very close to signing a former pupil of his, Michel Bastos. The Brazilian can play in a variety of positions, including on the left wing and even left back, and should provide additional depth once/if the signing becomes official. Such depth is becoming a very welcome feature of this Roma side, who were able to bring Alessandro Florenzi, Francesco Totti, and Radja Nainggolan off the bench, with the latter picking up an assist for Ljajic's goal.

The reason for Rudi's rotation is very clear: Roma and Juventus will face off on Tuesday in the quarter-finals in the Coppa Italia, and the side will be hoping to do much better than the last time the two met just under two weeks ago. No matter what the result in the cup, however, the side are continuing along at a stellar pace in the league.