A statistical look at Miralem Pjanic's "slump"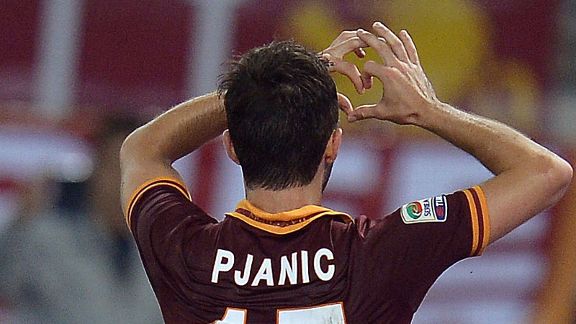 GettyImagesMiralem Pjanic's form has tailed off along with Roma's.
Is Miralem Pjanic currently in a slump?

During Roma's 10 game winning streak to begin the season, their Bosnian midfielder was playing fantastic football. According to Squawka, he was averaging 53 percent shot accuracy, 88 percent pass accuracy and winning 55 percent of his duels along the way to creating 24 chances in that early stretch of the season. Since then, his goals and assists have dried up, and Roma have won just twice in eight matches.

There may not be a direct relationship between the minutes Pjanic is on the pitch and Roma's results, but the numbers do suggest his fundamental importance to the team. Until week seven against Inter, Pjanic played less than 80 minutes just once, against Hellas Verona, and still managed to grab a goal and an assist against that side in week two. During that six game stretch, he picked up a Man of the Match award from WhoScored against Parma, contributed three assists and a goal as Roma won all six, scoring seventeen and conceding just once.

In the following four games, before Rudi Garcia's team would finally drop a point, Pjanic's minutes were reduced. One of his poorer displays of the season came in week seven against Inter, where he lasted just 57 minutes before being subbed off for Rodrigo Taddei. Squawka awarded him a Performance Score of -38, his lowest of the season so far. He had done moderately well in the first half, but found himself pinned back early in the second. Pjanic attempted only 25 passes all game; he managed to complete 21 of them, but of those 25 attempts, 22 came in the first half. During his 12 minutes after the break, he was nearly invisible, attempting just three passes and completing two, losing a headed duel against Rodrigo Palacio and dispossessing Esteban Cambiasso just outside the box.

Despite the poor performance, Roma nevertheless won. Pjanic's substitution came once the side were already 3-0 up, after he was booked and to prevent a sending off with much time left in the second half. He bounced back from the poor game quickly, putting in a superb display against Napoli on matchday eight to lift Roma to a 2-0 win on the back of his double in a match where the team lost Francesco Totti and Gervinho to injury.

Against Udinese and Chievo, Pjanic stayed on the pitch just 68 and 81 minutes respectively as Roma marched to two 1-0 wins. His last assist of the season so far was the following week, against Torino, as the team drew their first match and WhoScored awarded him another Man of the Match designation.

All in all, Pjanic's first ten games or so were rather consistent and productive. He managed four assists, three goals, created an average of 2.4 chances per game, and two defensive actions per match as Roma won ten in a row. In the eight games since then, Pjanic has taken part of six as a starter, one as a substitute for 28 minutes, and missed the Milan match due to suspension. He's not had a single goal or assist since Week 11 and had no shots on target until the Juventus match, and Roma have won just twice.

His lack of goals recently certainly is not due to a lack of effort (all stats courtesy of Squawka). He took four shots against Fiorentina, saw three of them blocked and one fly off target. His chances in the box in recent weeks have been largely restricted, causing him to take more shots from further distances. Against Torino he had just one shot, taken from outside the box and blocked. Three weeks later against Atalanta it was a similar story: one shot, taken from long range, which sailed off target in the 87th minute. Even the 4-0 win over Catania saw Pjanic restricted to a single shot from outside of the box that went beyond the right post. Earlier in the season, his shots from long range were at least going on target, with efforts saved against Bologna and twice against Parma.

Is this a genuine slump? Like many members of the team, his blistering form at the start of the season has cooled somewhat. There are of course some explanations for his dried up productivity on a game-by-game basis, such as being injured early in the Juventus match and missing the Milan game after a late sending off against Fiorentina in Week 15.

Yet there's no doubt that his important offensive contributions have indeed gone cold; after averaging an assist or goal every 115.14 minutes in those first ten matches, he has now gone 342 minutes without either. Without Totti, Gervinho or Mattia Destro for long stretches this season, perhaps even that can be explained: he's still creating 2.33 chances per match according to Squawka, nearly identical to the 2.4 he averaged in the ten game winning run. Has he declined or have his teammates failed to turn his chances into goals?

Although called up for Sunday's match against Genoa, Pjanic's fitness issues may prevent him from starting the match. Thus the answer to this question may go unknown for at least another week. Roma certainly need to get back to winning ways in the league with or without the creative Bosnian, but Rudi Garcia will be hoping that Miralem is back to his early season form sooner than later.