Michael Bradley in hindsight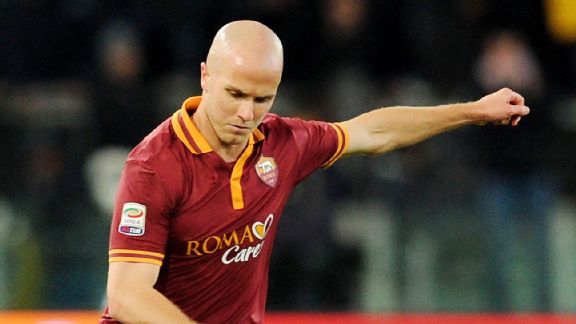 Giuseppe Bellini/Getty ImagesRoma received $10 million in return for the sale of midfielder Michael Bradley.
It was a transfer rumor that quickly began to gain steam. On Wednesday, former United States national team player Taylor Twellman broke the news via Twitter: "I'm hearing @torontofc is on the verge of signing Michael Bradley."

Unlike many transfer dealings, this affair did not drag on with an endless "will-he-or-won't-he." In fact, it made perfect sense. Roma had signed Radja Nainggolan on Tuesday, so the club had five midfielders, and it appeared Bradley had become the fifth choice (Nainggolan started versus Coppa Italia on Thursday). Alberto Faccini, Bradley's agent, told "SportsCenter" on Thursday that the deal was complete, and Roma coach Rudi Garcia confirmed the transfer in the press conference following Roma's 1-0 win over Sampdoria after the American was left out of the squad for the game.

- Report: Garcia wanted Bradley to stay
- McIntyre: Why Bradley moved
- Report: Bradley completes transfer

That was it. In less than three days, a story broke about Bradley's transfer and he was gone from Roma. The usual manner of transfers is almost nearly the opposite -- see Eden Hazard's protracted move from Lille to Chelsea, or for a much lower-profile player, note how long the rumors surrounding Danilo D'Ambrosio's transfer have been buzzing.

From a purely business perspective, the move will be considered a success for Roma. The Italian press has heralded Walter Sabatini, Roma's sporting director, for obtaining $10 million (roughly 7.3 million euros) for a player signed 18 months ago for just 3.75 million and half of Adrian Stoian, worth an additional half-million.

A Roma News headline proclaimed, "Bradley to Toronto: This time, the coup is in the sale." The News observed that the profit was the "umpteenth miracle of the mercato" for the club.

LaRoma24 crunched the numbers to determine that Sabatini's "plusvalenza", the net gain of player sales minus player acquisitions, has reached 50 million euros in three years. Retired Roma player and radio personality Ubaldo Righetti wished Bradley luck, calling his sale "a great operation" that was a win-win for all parties involved, and radio personality Ugo Trani said the sale "is one of the best things Roma has done."

From Bradley's perspective, the move can be traced to three key reasons. First and foremost seems to be playing time. Faccini told Radio Radio that Bradley "never felt like an important player for the team"; with Kevin Strootman, Daniele De Rossi and Miralem Pjanic jelling so well in the midfield and Garcia rarely straying from a 4-3-3 formation, Bradley spent much of the first half of this season on the bench. He started only five matches, playing just 555 minutes; 13 players on the squad have seen the pitch more than he has, and the arrival of Nainggolan signaled yet another player with whom to compete for rare midfield space.

The second factor is perhaps the second-most obvious: money. There are still conflicting reports about Bradley's salary with Toronto. According to Sports Illustrated, Bradley was making about $1.09 million each year with Roma. ESPN has pegged his MLS salary at roughly $6.5 million a year, nearly 33 percent more than Clint Dempsey, the current highest earner in MLS. Yet according to English transfer reporter David Amoyal, who works closely with Italian journalist Gianluca Di Marzio, the salary may be closer to $6.5 million spread out over the duration of his six-year contract with Toronto, putting it in the neighborhood of $1 million per year.

As Amoyal notes, Italian salaries are often reported post-tax, while American salaries are reported pre-tax, which would mean the move would actually involve a wage decrease for Bradley. Because of the conflicting reports, it remains difficult to determine if this move is a vast increase in salary for Bradley or a slight decrease, but even at the low end, he would be making roughly what he made at Roma.

Though the New Jersey native will indubitably be a starter for Toronto, the Canadian club's MLS season does not begin until March 15; if Bradley is moving for the third common reason for which players transfer, playing time, heading to a league that is inactive for another two months is slightly incongruous. This seems to have been noted by Toronto's other high-profile acquisition, Jermain Defoe, who will not be joining the club until Feb. 28, despite the transfer becoming official this week.

The legacy Bradley leaves at Roma is a mixed one. His first and only full season at the club was the disappointing 2012-13 campaign, when Zdenek Zeman's side rarely found consistency and Auerlio Andreazzoli's initial promise flicked out by the end of the Coppa Italia derby final loss against Lazio.

For his part, Bradley actually played well during the initial stages of Zeman's management. After being sidelined due to a groin injury early in the season, he flirted in and out of the midfield like most did under the Bohemian, but was relatively stable in comparison. Until January, he had made more appearances than De Rossi and the same amount as Miralem Pjanic, both of whom were infamously kept on the bench at times last season. Bradley ended the season with 24 starts, 30 total appearances, a goal, two assists and an 89.4 percent passing accuracy, according to WhoScored.com.

In other words, he was solid, not spectacular. He was a rather consistent performer with a ceiling that was not terribly high, but in a season when so many around him underperformed, he certainly stood out. Unfortunately for him, the Coppa loss prompted Sabatini into taking drastic action and changing the mercato policy. Out went signing just promising youngsters; in came Garcia and proven players, like Douglas Maicon, Morgan De Sanctis and the highly rated Strootman.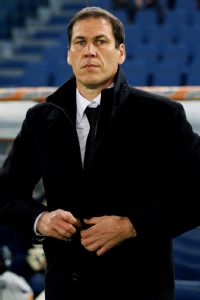 Paolo Bruno/Getty ImagesRoma boss Rudi Garcia has said that he wished Bradley had stayed with the club.
Strootman perhaps signaled the end for Bradley at Roma. Three years younger than the American, Strootman has slotted rather seamlessly into Garcia's midfield trio to complement Pjanic and De Rossi. In 16 appearances this season, Strootman already has three more goals and more assists than Bradley did in 30 appearances last season, with only a marginally worse passing accuracy (88.3 percent, according to WhoScored.com). Though indubitably aided by a better team around him and a better coach, Roma have found a balance in their current midfield trio, and Bradley does not seem to be quite as compatible.

This season, the American's presence on the pitch has led to both highs and lows. His late finish against Udinese was absolutely crucial in the 10-game winning run to start the season, but something about his increased minutes later in the season seemed to interrupt what was a beautifully working machine. He, of course, was far from the only factor here. Teams began to figure Roma out somewhat and started to play accordingly. Francesco Totti and Gervinho, both so potent before injuries against Napoli, missed extended periods of time, and with Mattia Destro out, Roma were missing an entire frontline.

Yet the other midfielders were arguably more important. Bradley played 90 minutes against Livorno before Strootman signed, and the side won. After the Dutchman's arrival, Bradley played at least one half against Torino, Sassuolo, Atalanta and Milan, all of which ended in draws, and against Catania, which was a win. A late point was salvaged against Atalanta only after the creativity of Adem Ljajic, and Pjanic pinned the home side back for Strootman to snatch a last-minute equalizer.

Despite Bradley's heroics against Udinese, Strootman has taken Roma on his back several times this season: the opener against Torino, the aforementioned equalizer against Atalanta a month later, the penalty against Milan. Pjanic, too, has been in fine form this season despite a dip as of late, with the double over Napoli, the sensational goal against Hellas in September, the assist on Strootman's goal against Torino, and generally giving the side creativity in the midfield, unlike the other players.

If someone had to go, Bradley was perhaps the easy choice. De Rossi's vice captaincy status, expensive contract and general increase in play this season meant he was always the least likely to leave and the most likely to start in a position where Bradley truly shines. If being fourth choice in the midfield was uncomfortable for him, Nainggolan's arrival made Bradley arguably fifth, and the desire to move becomes more understandable.

Bradley was a good player from Roma, though not a great one, and did a job when he was asked but failed to shine when asked to play out of position, often to cover for Pjanic. Bradley's passing accuracy demonstrates his effectiveness, although he may have passed backward and sideways a little too much for some tifosi. He certainly played a part in Roma's historic start to the season and maybe even considers himself unlucky to be a bench player after being one of the few consistent players under Zeman.

Roma, however, has without question changed over the past 18 months. Garcia lamented Bradley's departure after the match Thursday, noting that it was solely the player's decision to gain more playing time. If Roma's season continues and the club finds itself in Europe next season, squad players like Bradley are necessary to be able to compete in multiple competitions without faltering. If the World Cup were not this summer, perhaps Bradley may have been tempted to stay another year to see if he could gain more playing time next season.

For now, his loss is certainly not a major one for Roma, as Nainggolan showed Thursday that he can play in the midfield and that his passing is tidy enough to make a mark. Sabatini will almost certainly have to sign another midfielder this summer for depth purposes, but the transfer of Bradley shows the difference between what the club wanted and what the player felt he needed. An American midfielder on a team owned by Americans sounded fitting on paper, but Bradley's departure to Toronto confirms that Roma and the player were simply on different tracks.