Two debuts and a Coppa win, too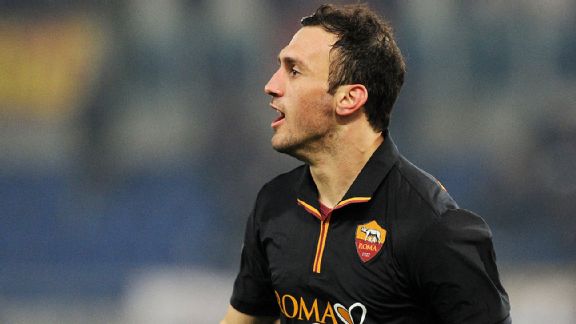 Giuseppe Bellini/Getty ImagesVasili Torosidis' sixth minute goal was enough to advance Roma into the next round of the Coppa Italia.
With a very early Vasilis Torosidis goal, Roma labored to a 1-0 victory over Sampdoria in the Coppa Italia on Thursday to help shake off the 3-0 league loss against Juventus last weekend.

- Stats: Roma 1-0 Sampdoria

It was indubitably important for Roma to get over their first defeat of the season as quickly as possible, and to that end, Rudi Garcia sent out a side that was a mixture of first team players, fringe players, and youngsters. Polish goalkeeper Lukasz Skorupski made his official team debut for Roma and put in a solid shift, making routine saves comfortably. Nicolas Burdisso made a rare start alongside Leandro Castan, presumably to gain some match-fitness before filling in for the latter player who is suspended in the league following his red card last weekend. It was also a chance for Alessandro Florenzi and Adem Ljajic to prove themselves after some weak performances recently, and of course the debut for Radja Nainggolan who was thrust into the opening lineup.

Overall, the results were mixed. Burdisso helped the side keep a clean sheet but did not look quite as assured as he has when filling in for Medhi Benatia and Castan earlier this season. Nainggolan was perhaps the most impressive of those who had eyes on them, putting in a very solid shift in the midfield and playing the initial quick pass that created the play that led to the goal. Ljajic was very involved but also was guilty of playing too selfishly, taking on a man too many or shooting when passing was a more viable option. As for Florenzi, he was lively, but his chemistry with Ljajic lacked and the two failed to connect with quick passes more than once.

The final result, however, was rarely in doubt. Sampdoria, also playing a far-from-full-strength eleven, had a few occasions on goal, but they were often dealt with easily. A lesser performance from Vincenzo Fiorillo between the sticks could have seen this game end 3-0 in favor of Roma, but the 23-year-old Italian was sensational on Thursday, with a notable double save on Florenzi in the first half and dispossessing Ljajic with an outstretched boot in the second that kept his side in the match.

Sampdoria pushed and prodded at Roma, but the home side never truly looked like conceding. The offense was far from convincing, with Destro a little too hesitant to shoot and Ljajic too eager; Gervinho's insertion with fifteen minutes to go provided some more spark but not much more in terms of clear-cut chances.

The result, more than the play, was the most important aspect of the match and there is no doubt that Roma did what they needed to do -- what was expected of them -- during the match today. To get back to the heights that the side was at in the beginning of the season, the offense needs to click more, but a lack of chemistry can easily be traced to the understandable absences of Francesco Totti, Miralem Pjanic and Douglas Maicon, along with playing without Gervinho and Kevin Strootman for nearly the entire match.

It's not quite a job well done for Roma, but it is a job done. For their efforts the side now face the only team to have defeated them so far this season in the next round of the Coppa Italia -- Juventus on January 21st. Before then, there are matches with Genoa and Livorno at home in the league and two more chances for the side to find a better rhythm.