Would Nainggolan be a good option for Roma?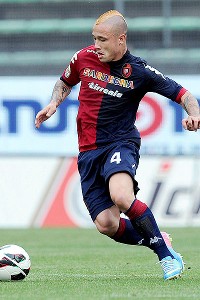 Giuseppe Bellini/Getty ImagesRadja Nainggolan has many good qualities,but would he be worth the expense for Roma?
Four days from now the January transfer window will open, giving clubs their mid-season chance to send players out or sign new ones. For Roma, the past two seasons under transfer director Walter Sabatini brought in Marquinho and Vasilis Torosidis and not much else. With the club achieving great things this season, will Sabatini become more active in January?

It seems now that Roma, wanting to fill the void left behind whenever Miralem Pjanic is suspended or injured, may be looking at Radja Nainggolan from Cagliari as midfield depth. The Belgian seems to be one of the most wanted names for the winter window, with Juventus, Milan and Inter all rumored to be interested in his services as well. Sabatini reportedly has a bid ready to acquire half of the player for 7.5 million euros.

Nainggolan has a reputation for being a solid, creative midfielder. This season he has made 16 appearances for Cagliari with two goals and seven yellow cards. According to Squawka, his shot accuracy is 30 percent, with 10 on target and 23 off-target in Serie A this season. Ten of his Cagliari teammates are ahead of him for average shot accuracy. He's averaged 83 percent passing accuracy and won 49 percent of his aerial duels, having created 20 total chances in the process.

The pros: Nainggolan is only 25 and has three years of Serie A experience. He's certainly a more fluid and creative player than Michael Bradley and would add much needed depth to the midfield. Were Pjanic to miss a match, Nainggolan could slot in deeper and take over the more creative duties, freeing up Bradley to sub in for the more similar Daniele De Rossi or Kevin Strootman as needed. That would give the club five viable options in the midfield, although just last weekend manager Rudi Garcia showed the flexibility to start four strikers en route to a 4-0 victory over Catania.. If the club seriously want to progress in the league and become a mainstay in European competitions, depth is absolutely a must.

The cons: Nainggolan is a decent player but not truly a great one. His cost would be 15 million Euros should Roma full acquire him, and that pricetag seems high for a club that has conducted very shrewd deals just this past summer. Medhi Benatia, Mattia Destro, Gervinho, Douglas Maicon, Morgan De Sanctis and Pjanic were each signed for less than that, making him one of the more expensive purchases that this Roma will have undertaken.

He has Serie A experience but none in Europe, and none with a side as ambitious as Roma; should his performances not be up to par, a 15-million Euro player will be hard to get rid of without taking a loss. Finally, he's been carded nearly every other game this season, and the last thing the club needs is for their depth to be suspended when the starters can't play.

At the right price, Nainggolan could be good depth for this current Roma side. But if the rumored figure is accurate, his price tag seems simply too high for a club of Roma's finances -- don't forget Sabatini's words about plusvalenza -- and for a player will fill a bench role more often than not.