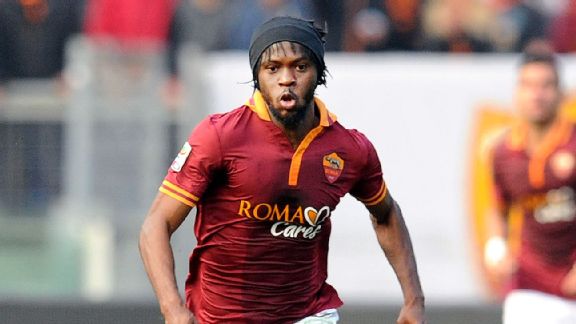 Giuseppe Bellini/Getty ImagesGervinho has proved doubters wrong since joining Roma from Arsenal over the summer.
Saying Gervinho was a gamble this summer is an easy thing to say, mostly because it was certainly true. He was known at Arsenal not for destroying defenses, brilliant passes, or clinical finishing, but for wasting opportunities and playing as if he lacked confidence. His eight million euro price tag may have been less than what Arsenal paid for him in the summer of 2011, but it reflected the decrease in value for a player who was no longer the force he was in France.

- Report: Garcia wants trophies

If all transfers are gambles, players transferring between leagues may be the largest of them all. Losing Erik Lamela, a Serie A-proven player, and bringing in Gervinho was baffling for a variety of reasons but not all narratives progress according to plan. One of those two players has surprised everyone and continues to play week in and week out at a very effective rate; the other has disappointed some with his high price tag and inability to quickly adjust to the league. The fact that Gervinho is the former instead of the latter is just one of the many magical aspects Rudi Garcia has brought to this Roma side.

Speaking to Il Giornale today, Gervinho was frank and interesting when discussing his arrival at Roma. "Were the fans perplexed when I arrived? It was a legitimate concern. New players must make themselves known by showing their qualities. Soon the praise came."

Come it certainly did. Though marred by injury already this season, Gervinho's pace and dribbling has opened up quite a few defenses so far this season, with two goal-creating moments that unlocked a win against Fiorentina among many other high points. If the team has suffered a loss in creativity in the absence of Francesco Totti, it also suffered a loss in being able to play directly when Gervinho was out.

"During the summer I had many requests, but when I knew Garcia was going to coach, I shut the door to other destinations to come here." Of course, the rapport between the two is well known, but Gervinho adapted to life in Serie A almost immediately -- an outcome almost no one predicted. To keep being as effective, he will indubitably have to improve his game and continue to be unpredictable.

"Our objective is the Champions League. If we manage to do more, it would be extraordinary. I won't lie: I would love to win the Scudetto." His ambition is admirable; his success story is entwined now with Roma's and it's only fitting that both the player and the club, written off just late last year, are now prospering alongside each other.

Roma did gamble on Gervinho, but I certainly wouldn't bet against Garcia after seeing his first four months in charge.