Does Serie A's UCL failure help or hurt Roma?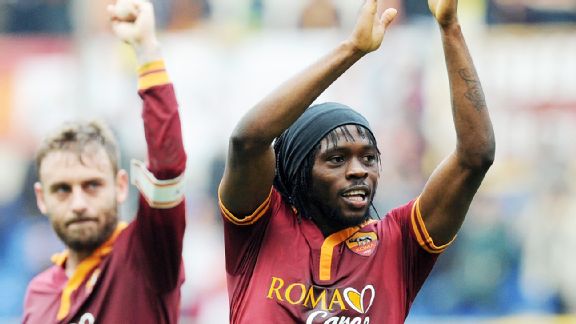 Giuseppe Bellini/Getty ImagesThe lack of a European distraction could greatly help Gervinho and Roma in their Serie A title chase.
With the halfway point of this Serie A season just around the corner, three teams have stood out from the crowd: the league leaders Juventus in first, the good guys in second, and Rafa Benitez's Napoli in third.

At one point or another, each team has looked terrifyingly good and they've all gone through rough patches where legitimate questions have arisen regarding their true merits, as well. Roma, as we know too well, went four matches drawing consecutively and doubts were raised about the squad's ability to create without their Capitano. Juventus were thrashed by Fiorentina following a bad week in the Champions League that left their defense looking as porous as ever, and Napoli have been consistently let down by their defense when their offense fails to outscore opponents, as was the case against Udinese.

- Report: Garcia wants trophies

Roma, up until this weekend, had one league advantage over the first and third placed teams: no Champions League. A disadvantage though it certainly may be for money and exposure, it granted the side the unique ability to focus solely on one competition. After Juve's loss against Galatasaray knocked them out of a group in which they've struggled, and Napoli's win over Arsenal proved to not be enough -- as they became the first side to not qualify for the knockouts stages after amassing 12 points in the group -- Roma's main title contenders no longer are in Europe's grand competition. With both now in the Europa League, how does this affect Roma?

First and foremost, I'm making the assumption that it does actually affect the club, at least to some degree. With this trio of teams indubitably the most consistent so far this season, and occupying the top three spots, only a truly poor run of form would allow other teams into Champions League contention; with the notable caveat that so much of the season left, such a run of form is certainly possible sometime in the future. For now, however, they've clearly established themselves as at least the most well rounded sides, if not the most consistently convincing.

Second, any team hunting for a Champions League place for next season depends much on the teams around them. Juventus, for example, are in first; only they truly control their own destiny. If they were to win every match between now and the end of the season, no matter what Roma and Napoli do, the Scudetto is theirs. The latter duo, to have any Scudetto hopes, must wait for Juventus to trip up.

Here's where two possible, divergent paths may go. Napoli, under Benitez, will probably take the Europa League very seriously. Aurelio De Laurentiis may not like it, but this is the coach who just led Chelsea to win the competition just last season. Juventus have the motivation to reach the final since it is at the Juventus stadium this season, but there's no doubt that the glory is nowhere near the same that it is for the Champions League.

How do Roma fit into all of this? With most members of the squad very vocal about finishing in the top three, if not in first place, it would perhaps be most opportune for both Juve and Napoli to take the Europa League seriously. More competitions lead to more rotation and more chances for points to be dropped or bad form to be gained. Juventus, for example, lost three of their first league matches last season directly before or after a Champions League match. Once knocked out of the competition, they went on an unbeaten run to win the Scudetto and only drew/lost once the trophy was actually theirs. Not to mention, Serie A's loss of a fourth Champions League spot was largely due to Italian sides completely ignoring the Europa League, so both sides taking it seriously this year could go a long way towards helping the league recover it, which would benefit almost every team at one point or another in the future.

Of course, this all affects Roma only indirectly. Roma are still in second place in the league, three points off of first and with a nine point gap over fourth. For this side to play in the Champions League next season, it's really quite simple: just keep doing what they're doing. Bad form from Juventus and Napoli would help, no doubt, but Roma's fate is in its own hands.

It's just that a little help sometimes is nice.