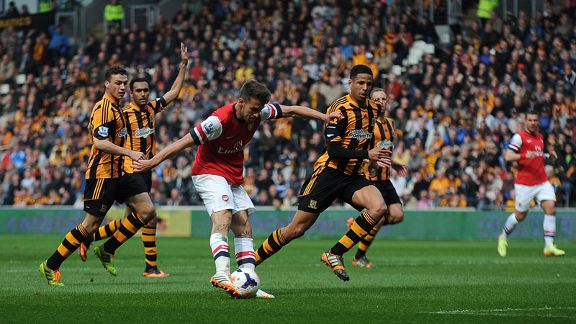 PA PhotosAaron Ramsey scored the opener for Arsenal at Hull and showed what Arsene Wenger had been missing.
Arsenal's 3-0 win over Hull at the KC Stadium was their most comfortable since putting four past Sunderland in February, and the performance of Aaron Ramsey feels almost bittersweet.

The Welshman was outstanding against the Tigers, but it's impossible not to wonder what might have been if he had been fit for the duration of the campaign. There's little point in being that wistful, but his contribution was fantastic.

After a tough opening 25 minutes -- which saw Hull begin at frenetic pace and at times come close to crossing the line of physicality from fully committed to dirty -- the Gunners went ahead through a brilliant worked goal. Continue Reading...