Arsenal show concentration in adversity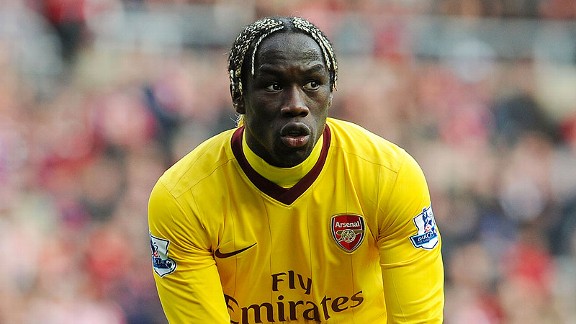 David Price/Arsenal FC/Getty ImagesBacary Sagna showed his best form of the season during Arsenal's gritty 1-0 win at Sunderland.
One of the main problems that have cost Arsenal points this season has been individual errors leading to goals. There have been few doubts that there is some quality in this Arsenal squad, however significant lapses in concentration have cost the club valuable points.

Less than two weeks ago, some of Arsenal's defending against Liverpool was embarrassing. All across the back five, including the goalkeeper, Arsenal looked vulnerable. Arsenal fought back well in that game, but the moments where the team lost focus could have led to defeat.

When Jack Wilshere went off injured and Carl Jenkinson was sent off at the Stadium of Light against Sunderland on Saturday, it felt like a moment that was made for another Arsenal lapse. With a fullback playing at centre back and a home side ready to load a lot of pressure on the Gunners to get an equaliser, I was seriously worried.

However, it seemed that being faced with some adversity focused the minds of the Arsenal players on the pitch. As highlighted by Andrew Mangan yesterday, Bacary Sagna was superb. After having an indifferent season at fullback, making the unexpected move to centre-back on short notice meant there was no time for nerves or over-thinking the situation. He just had to focus and get on with it. Sagna had the look back in his eye that has rarely been seen since last season, which just said that he was not going to let Arsenal lose the game. It was the same look he had after scoring against Spurs last season.

- Cazorla sinks Black Cats

The reshuffle with Laurent Koscielny being injured in the warm-up didn't just affect Sagna. Per Mertesacker had played all of his games for Arsenal as the right centre back, and adjusted well to being on the left. After Jenkinson's red card, Aaron Ramsey dropped into right back and coped well.

Ramsey was the only player to have almost been punished for a minor individual error as he was robbed of possession in the second half before Steven Fletcher shot wide. Otherwise, if Sunderland were going to score, it wasn't going to come from an Arsenal mistake.

The situation that the team found themselves could have sent Arsenal one of two ways. They could have felt sorry for themselves and allowed Sunderland to overrun them in the game, or they could have dug in and made sure they concentrated for the rest of the game. Much to the delight of Arsenal fans, the players dug in.

After making it through the match with Stoke and getting three points, Arsenal had more belief that they could do the same at the Stadium of Light. While the clean sheet against Tony Pulis' team was mainly down to the visitors at the Emirates being extremely reluctant to attack, the shutout at Sunderland was hard earned. Wojciech Szczesny has also had his critics for being over-confident, but he wouldn't be the same player if he didn't have that self-belief in his game. His decision making on crosses was better against Sunderland, and his shot-stopping was excellent.

With about 15 minutes to go, without wanting to think too far ahead, I thought that if Arsenal could see the game out, then the result could be significant in the making of this team. The reaction of the players at the final whistle highlighted that. These sorts of backs-to-the-wall jobs can unite a team and make them more willing to put in the extra effort for each other.

The win was important considering there are two weeks until the next Premier League game with the FA Cup and the Champions League now taking precedence. Arsenal can't rely on Sagna as an emergency centre back so they need to get Koscielny and Thomas Vermaelen back soon, especially as Andre Santos looks set to move to Gremio on loan so could they need Vermaelen to cover at left back.

Having a patchwork squad isn't an ideal situation, but occasionally it can unite a team. Arsene Wenger will need it to continue to do so and have his team concentrate for the rest of the season as the top four is almost within reach.