Sagna and Szczesny star as Gunners scrap three points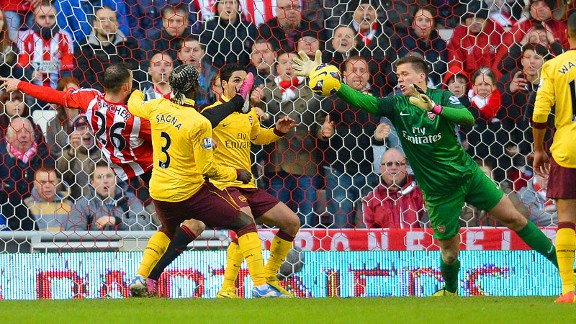 Andrew Yates/Getty ImagesWojciech Szczesny came up with three massive second half saves to ensure Arsenal's win at Sunderland.
It wouldn't be unfair to say that, by his own very high standards, this hasn't been Bacary Sagna's best season. He has struggled at times, so much so that there have been plenty of calls for him to be replaced by youngster Carl Jenkinson. Today, during Arsenal's hard-fought 1-0 win over Sunderland, the Frenchman showed why he's a player Arsenal should be trying to nail down to a new deal and Jenkinson's recklessness made a difficult task even more so.

- Randall: Heart and soul, but no Sunderland goal
- Cazorla sinks Sunderland

When Laurent Koscielny picked up an injury in the warm-up, Arsene Wenger moved Sagna to centre-half and brought in Jenkinson at right back. And in the first half Arsenal were comfortable, scoring through Santi Cazorla and dominating the game. Jack Wilshere was effervescent; the midfield ticked and clicked; and the Gunners should have been further ahead.

The second half didn't go according to plan, however. First, Wilshere was forced off after one of Sunderland's many industrial challenges left him with a thigh injury, and with all due respect to Abou Diaby, his languid style is hardly a like-for-like replacement. Then, Jenkinson picked up a second yellow card for a silly challenge on Stephane Sessegnon. Having been booked for a clumsy foul in the first half, he can have no complaint, and it handed the momentum to the home side.

With few defensive options on the bench, midfielder Aaron Ramsey was pressed into service at right back and acquitted himself very well. In the middle Per Mertesacker stood tall and strong, Nacho Monreal had a solid game at left back, but the stand-out player was Sagna. He made a total of 14 clearances in the game (via @orbinho), some of them so last ditch it looked as if Sunderland just had to score, and his commitment and desire to defend was crucial in Arsenal holding on to the three points.

At the end of the game, it was clear how much it meant to him, after his own frank admission that he hasn't been at his best this season. It's a reminder that football opinion lives too much in the moment. Sagna has been one of Arsenal's most consistent performers since he joined in 2006; his first real loss of form deserved a bit more understanding and appreciation.

Arsenal can also be thankful for an outstanding goalkeeping performance by Wojciech Szczesny. The Polish netminder made three world-class saves in the second half, one in particular from a Steven Fletcher header was as good as anything you'll see all season. And when Arsenal needed their keeper to be strong and reliable, he was just that. Under intense pressure from free kicks and corners, Szczesny kept his defence organized and punched well when he needed to. It was the kind of display that shows the potential he has.

If there was a downside, it was the sheer number of chances the Gunners missed. Even down to 10 men, they were dangerous, and I can't remember a game when so many shots have flashed just wide. Theo Walcott hit the post; Olivier Giroud and Cazorla wasted far too many opportunities for players of their quality; and, when down to 10 men and under so much pressure, it could have proved quite costly indeed.

Nevertheless, it allowed Arsenal to show they are capable of scrapping out a win. The positives are the three points and a gutsy, backs-to-the-wall performance from which they really should take confidence.

Two seasons ago Arsenal were in the same position, a man light and 1-0 up at the Stadium of Light. Back then an injury time Darren Bent goal cost them two points. Today a makeshift back four and a team which worked extremely hard from front to back ensured lightning did not strike twice.