Wilshere hype is nothing new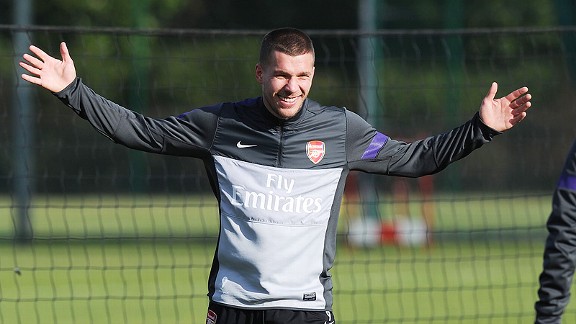 Stuart MacFarlane/Arsenal FC/Getty Images Jack Wilshere is the toast of England, but Arsenal supporters aren't surprised by his performance against Brazil.
Ahead of Saturday's Premier League game with Sunderland, Arsene Wenger has been fielding more questions than usual about Jack Wilshere. While most in England knew he was a decent player, his performance for his country Wednesday against Brazil thrust him further into the limelight.

It's not uncommon for the English media and fans to overhype a player and declare them the saviour for the country's international side. The way some have reacted to Wilshere's midweek performance has been in line with that trend. But to Arsenal fans, the way he controlled the midfield against Brazil wasn't a surprise. It has become the norm for Wilshere.

After seeing lot of players recover from long-term injuries, Wenger's scepticism over Wilshere's ability on his return was understandable. Aaron Ramsey has put in some good performances recently, but it took him a long time and some loan spells to get back to performing consistently. Although Wilshere's injury wasn't as serious as the one suffered by Eduardo in 2008, the way the Croatian's Arsenal career faded away meant there were serious concerns by fans about Wilshere's recovery.

It was difficult to know if he could get back to his level of performances in 2010-11, and how quickly that would take. It's fair to say he's already surpassed that level.

However, Wenger reminded England fans who are building Wilshere up there is a challenge to make sure he doesn't burn out. Such was his talent and importance to the team as a 19-year-old in 2010-11.

He played too many times and suffered by missing all of the next season with injury. Given Arsenal's table position, every match is taking on added importance, making it difficult for Wenger to rest Wilshere.

The only potential opportunity could be the FA Cup match with Blackburn, but Wenger won't want to be seen as not taking that game seriously.

At least the centre of Arsenal's midfield is one of the team's few positions where Wenger has options to rotate Wilshere. Mikel Arteta and Francis Coquelin are returning and join Abou Diaby, Santi Cazorla, Aaron Ramsey and Tomas Rosicky as potential players for the three central slots.

For Sunderland, I suspect Wenger will pick the first-choice three of Arteta, Wilshere and Cazorla. If Laurent Koscielny (calf) doesn't pass a fitness test, the Arsenal manager could choose a more defensive midfield trio and include Coquelin. However if the team are significantly weaker at centre back, Arsenal's best way of protecting them is to keep the ball. Arteta, Wilshere and Cazorla give Arsenal the best three to do that.

One of the only questions that could be left to ask of Wilshere after the past week is whether he can play centre-back if Koscielny can't with Thomas Vermaelen (ankle) out. Even though he's clearly not a viable option for defence, I'm sure he'd give it a go if asked if it was helping Arsenal Football Club.

It is a shame though that Arsenal don't have a central midfielder who could fill in at centre back. Gilberto and Alex Song have been available for emergencies in recent years. However, Arsenal could be left to pick Sebastien Squillaci, a man who hasn't played a league game for them in over a year, a full-back in the centre (Bacary Sagna) or Ignasi Miquel, a youngster with limited experience.

Hopefully the focus after the match won't be on Arsenal's defence again, but on another superb Jack Wilshere performance in an Arsenal victory.