Taking centre stage for England at Wembley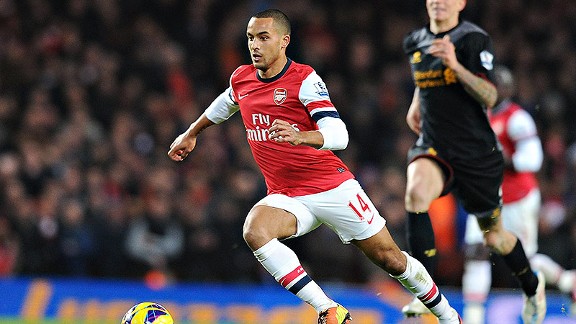 Stuart MacFarlane/Getty ImagesWill Theo Walcott's excellent form with Arsenal translate to England's national team?
From an Arsenal point of view, I usually try to not take much notice of international friendlies. After they've happened, I'll look at the results to see if any Gunners were injured. This is especially the case when there are friendlies in midweeks between club football weekends.

Some other teams' players have pulled out from their national squads with injuries, and feeling cynical I reckon that some of them could be 'convenience' injuries. It marks a change to have an Arsenal squad that, bar Kieran Gibbs, has a relatively clean bill of health. Hopefully that will still be the case on Thursday morning.

One of those players who fans hope will return unharmed is Theo Walcott. He's been one of the players put up for media duties by England this week and the central striker's role was mentioned, as it has been for much of the season in relation to Arsenal. While I remain unconvinced as to whether he can regularly play in the position for Arsenal, the England game with Brazil is a good opportunity for Walcott to do well there for his country.

With other attacking options unavailable to Roy Hodgson, Walcott could start up front with Wayne Rooney in behind him. Brazil are unlikely to play a defensive game, so there should be space for Walcott to run in behind the back four and showcase his improved finishing. With Jack Wilshere and Steven Gerrard potentially linking up in central midfield, Walcott won't be short on players to assist chances for him.

Walcott is undoubtedly playing the best football of his Arsenal career at the moment, so it would be good for his confidence for it to be rewarded by an England start. He hasn't always been first choice for Hodgson, but he's the highest goal-scoring Englishman along with Rickie Lambert in the Premier League this season.

Anyone who watched a match with me near the start of the season will tell you that I was being fairly critical of Walcott for his runs inside and some of touches that lost the ball. Given he's been a young, developing winger, his goals and assists tallies have always been reasonable, however fans become frustrated when there appeared to be too many moments when Walcott could have made a difference in matches but didn't.

This season, and especially since signing his new contract, Walcott has been more decisive in what he's done in matches. I never thought I'd consider Walcott to be one of the leaders in the team, but he's stepped up recently, looks keen to get the ball and can make something happen to change a game.

While Walcott playing for England does worry me that he'll get an injury, a good performance should benefit Arsenal. If Walcott feels like an important part of the national team, as he clearly now does for Arsenal, it should continue to bring the best out of him. Given that he's still 23, hopefully he'll continue to improve at the rate he has done this season.

Even though the match at Wembley is part of the FA's 150th anniversary celebrations, and just seeing England v Brazil on any fixture used to be enough to get supporters excited, I'll only really be watching the match to see how the Arsenal trio of Walcott, Wilshere and Alex Oxlade-Chamberlain perform. The fact that some players have pulled out emphasises that at this stage of the season, club matters are more at the forefront of people's minds. The match might not be ideal, but it could provide Walcott with another boost ahead of another important period of the season for Arsenal.