Wilshere adds fight and bite to Arsenal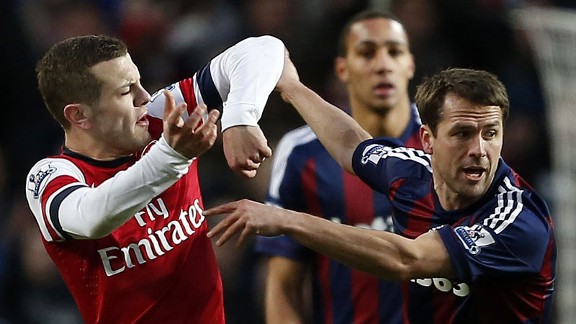 AssociatedJack Wilshere confronts Michael Owen
When Michael Owen threw a timid, tame and frankly kitten-esque punch at Mikel Arteta after the Spaniard's tough, but fair, tackle, it was great to see Jack Wilshere immediately stand up for his skipper. Wilshere let the former striker know what he thought of his reaction. That it was unlikely to have harmed a fly wasn't the issue - it was the intent that he took exception to, and it's not the first time it's happened this season either.

When Emmanuel Adebayor was sent off for a studs-up challenge on Santi Cazorla in the North London derby back in November, Gareth Bale arrived on the scene, objecting to the decision and the reaction of the Arsenal players. Again, it was Wilshere who showed that he wouldn't stand idly by as one of his team-mates was left hurt by a nasty tackle. He and Bale engaged in some pushing and shoving, but the message was clear: don't think you can behave like that and get away with it.

In the game against West Brom at the Emirates, again Wilshere took exception to the treatment of Olivier Giroud and squared up to massive centre-half Jonas Olsson. That the top of Jack's head barely reached the Swede's chin mattered little to the England international. It made for a fantastic picture, but again demonstrated that Wilshere won't be cowed on a football pitch.

And it's something Arsenal have missed in recent seasons. Cesc Fabregas was a similar kind of player, one who wouldn't be intimidated and who seemed to thrive on a bit of conflict. After Aaron Ramsey had his legged snapped in two against Stoke, who can forget Fabregas 'shushing' Tony Pulis as the Stoke manager berated him from the sidelines for a foul he'd just committed? Like Wilshere, Fabregas cared little for reputation or size; when his team was wronged, he stood up for it.

In the past Arsenal have always had players who could look after their team-mates. Foul Overmars? There's Vieira to remind you not to do it again. Showboat against Lauren? Next time you're getting kicked up in the air. Are you a snide, nasty player like Lee Bowyer? Have a taste of some Bergkamp elbow. Miss a contentious penalty at Old Trafford? There's a flying Martin Keown to remind you what everyone thinks of you.

It's not to advocate violence, or anything like it, but there's no doubt that Arsenal have been a bit too soft in recent seasons. Look at how much Stoke enjoyed bullying them, especially at the Brittania Stadium. They might have been overly physical at times but Arsenal found it difficult to cope with. This season has shown that there's more fight in the Gunners, more solidarity and a team that's better able to cope with the more industrial side of the game.

Arsenal have players who won't be pushed around. Wilshere we've mentioned, Podolski likes to get involved, Arteta is too experienced not to stand up for his team-mates, and even Olivier Giroud has had his moments. If it's not quite Vieira and Lauren, it's a long way removed from the passivity of players like Denilson or Alex Song, who made it his life's work to hug as many opponents as possible.

Every good team needs a bit of a physical edge, for the players to have each others' backs. There are clearly problems at Arsenal from a footballing point of view, but there are signs that the group is beginning to forge a bit of an us-against-them mentality. A team that will fight for each will fight for results, and while Vermaelen and Arteta will continue to share the armband, Wilshere is emerging as one of the team's leaders through his play and his attitude.