Unlikely deadline-day deals can't hide holes in Arsenal squad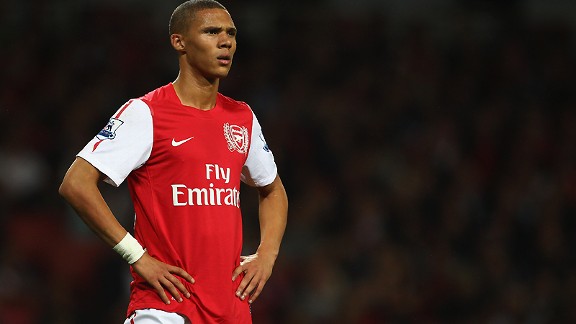 GettyImagesKieran Gibbs: His 'three-week absence' leaves Arsenal short in defence
Hopefully, in the very near future, a fair chunk of this article will become irrelevant as Arsenal make a late move or two on deadline day. Imagine metaphorically screwing it up and throwing it in the bin (or hitting delete) when news of Arsene Wenger splashing some cash comes through.

- Mangan: Four seasons in one day at the Emirates
- Walsh: A just result despite entertainment

Unfortunately, experience as an Arsenal fan means I'm struggling to see that happening. At this stage, almost any signing will be welcomed with open arms by most Arsenal fans. Wenger's notion that there is no one available that can improve the squad isn't a view that is popular with Gooners. Any additions, even if a new player is not the top-quality Wenger might say he's looking for, he would add depth to a thinning squad that is only a few injuries or suspensions away from looking horribly exposed.

One of the biggest issues though, is that having left it so late to do any business, multiple signings can almost be completely ruled out. A new arrival would reinvigorate some fans and get a buzz going around the team, but ultimately it won't hide the various holes in the Arsenal squad. Some of them were highlighted quite dramatically by Liverpool at the Emirates Stadium on Wednesday.

A lot of speculation during the transfer window has focussed on signing a striker. The arrival of one would be extremely welcome as the lack of options to give Liverpool a new challenge from the bench on Wednesday was indicative of Arsenal's season. A new striker wouldn't walk straight into the starting XI though as Arsenal's front four of Theo Walcott, Cazorla, Podolski and Giroud are developing a good understanding between each other.

In fairness to Walcott, he's now scored four goals in four games since signing a new contract, and is playing with the most confidence he's mustered in an Arsenal shirt. Fans were sceptical at the start of the season, but have been convinced by his performances and are happy he has committed to the club. Olivier Giroud now has five goals in three games and continues to cause problems, although it wasn't good to see his embarrassing dive in the second half. Lukas Podolski seems to have stopped going missing in games and is creating more chances.

Whilst the forward line is firing, the defence seem to have regressed. Wojciech Szczesny gave an interesting interview to the Guardian this week and defended his back four by suggesting the whole team needs to work harder as they can often be left exposed. They were exposed against Liverpool, but it was multiple individual errors that almost allowed the visitors to win comfortably.

The other major concern for Arsenal's back line is the injury to Kieran Gibbs. He's been given the worrying three-week diagnosis. If that's a Diaby-esque three-weeks, it's impossible to know when he'll appear again. Suddenly the need to sign a defender could be greater than a striker. Although, if as Szczesny suggested, the team need to protect the back four a bit more, a holding midfielder could be a better option.

With fans having concerns about Santos, I suspect Arsene Wenger will use Thomas Vermaelen at left-back again and bring in Laurent Koscielny. However, even in that situation, the loaning out of Johan Djourou begins to look slightly ill-judged as Arsenal are only one injury away from Sebastien Squillaci being back in the team.

The Liverpool match was another example that this Arsenal squad could be improved in all areas. There is sincere hope that it will be improved in at least one in amongst some of the deadline day madness. Not all of the holes can be hidden, but hopefully Wenger will at least have a go at plugging a few.