Giroud shows his quality as Brighton test Gunners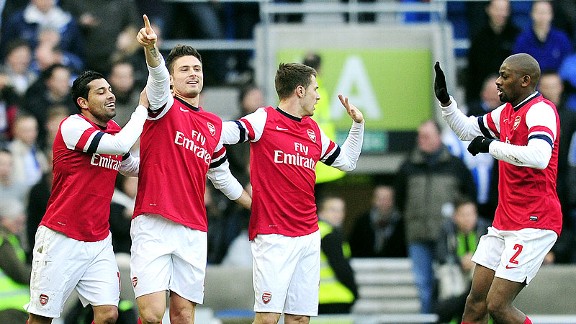 GLYN KIRK/AFP/Getty ImagesOlivier Giroud pointed the way to victory for Arsenal with a brace on Saturday versus Brighton.
Arsenal are through to the fifth round of the FA Cup after a hard-fought win against a Brighton side that took advantage of the Gunners' continued defensive instability.

- Arsenal oust pesky Brighton

Twice Arsenal led, twice Brighton pegged them back, and both times serious questions have to be asked of the defending. On the first, a combination of static defenders and a goalkeeper who probably should have been stronger allowed Ashley Barnes to head home a corner from close range.

And it was a similar story for the second equaliser, neither Lukas Podolski nor Andre Santos closed down Barnes quickly enough, and when Leo Ulloa got the wrong side of Per Mertesacker, he had the simple task of stooping to head home from inside the six yard box. Arsenal's defensive weaknesses are nothing new, but that there doesn't seem to be any kind of solution to them is a real worry.

Thankfully, from an Arsenal point of view, they had a striker who was on his game today, and Olivier Giroud scored two quite excellent goals. If comparisons with the man he replaced last summer are somewhat unfair, it's not unreasonable to suggest that both goals had a touch of Robin van Persie's quality to them.

His first, a beautifully placed effort into the top corner, put Arsenal ahead, and he showed strength, a deft touch and finishing quality for his second. Taking down Abou Diaby's dinked ball over the top of the defence, he held off the defender before slamming the ball past the keeper. Giroud might have scored more; Casper Ankergren denied him his hat trick just minutes after his second goal, a free kick whistled just over the bar, a wonderfully executed scissors-kick was on target but hit a defender, and late on he was wide open in the box waiting for a pass which didn't come from Theo Walcott, whose shot from a tight angle was saved.

What was interesting too was the way Giroud added some strength and power to his game today. He's a big guy and should be more physically imposing. Perhaps it was just the defenders in question today, but he caused them the kind of problems we used to see Didier Drogba give defenders week in, week out.

Giroud has taken his tally for the season to 14, and he looks like a player who, if he continues to get a run of games, will improve further. Perhaps it's a bit hyperbolic to suggest it was a 'coming of age' performance from Giroud, but it's the first time he's really taken a game by the scruff of the neck and done so much to drag Arsenal over the line.

Of further encouragement was a second excellent performance in a week from Aaron Ramsey. Again asked to sit the deepest of Arsenal's midfield trio, he kept things simple, worked hard, passed the ball efficiently when it needed it and showed he is capable of more with a couple of sumptuous long balls. One in particular to Walcott was of the highest class. He still has to prove he can do it week in, week out (much like the Arsenal team as a whole), but it's encouraging to see him play so well after struggling at times this season.

Overall, Arsene Wenger will be happy and relieved this evening. The way Arsenal defended today, they could easily have conceded more costly goals than the ones they did. And with the transfer market unlikely to provide a solution to the defensive problems, they have to find a way to solve them on the training ground.