Arsenal: A team of one half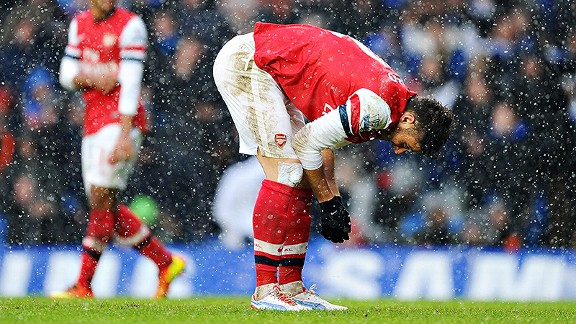 Laurence Griffiths/Getty ImagesA tough month got tougher for Olivier Giroud and Arsenal
Arsenal fans will be unhappy for the very obvious reason that they lost 2-1 to Chelsea, but there were many aspects of Sunday's game which will leave them displeased.

Juan Mata goal (Chelsea, 1-0)

Referee Martin Atkinson missed a clear, and nasty, foul on Francis Coquelin in the buildup to the goal. That Arsenal were opened up so easily with a simple ball over the top will be a huge concern too, and Bacary Sagna, usually a reliable, consistent performer, is struggling with his first period of poor form since joining the club.

- Rafa finds comfort at Stamford Bridge in win
- Lythell: Jekyll and Hyde display edges past Arsenal
- Martin: Chelsea stay relevant

That Chelsea's opener came less than 60 seconds after Olivier Giroud spurned a fantastic chance to put Arsenal ahead only rubbed salt in that particular wound.

Frank Lampard penalty (2-0)

Arsenal's defending was poor, and allowing Ramires that much space in the box is nigh on unforgivable, but the Brazilian conned the referee into awarding the spot kick. It was a clever dive, but a dive nonetheless.

First half versus second half

The Gunners were toothless, off the pace, error-strewn and brittle in the first 45 minutes. They created little, were pulled apart by Chelsea time and time again, and the lack of movement when they did have the ball was startling at times.

Clearly something Arsene Wegner said at halftime sparked them into life and the subsequent performance was much, much better. Theo Walcott scored a fine goal, there were chances to equalise, and it was chalk and cheese in comparison to the first half.

The question is why it took that to spark Arsenal to life, and why it seems to be a case that more and more often Arsenal only perform for 45 minutes, if that. If they can do it for one half, there's no reason why they shouldn't be able to do it for two, other than lack of application and concentration. And as most of the "performances" come in the second half, you have to ask if the preparation is correct, or if the players are switched off for some reason.

These questions can be asked of the players, but ultimately the manager is responsible for getting his team ready and making sure they compete from the first whistle. Arsenal are not doing that often enough and it has to be down to Wenger.

Squad depth and management

Illness to Lukas Podolski and Giroud meant Arsenal were shorn of attacking options from the bench. Wenger recalled Andrei Arshavin, not because he had faith in the Russian to produce, but simply because he had no other options. And that's a damning indictment of the lack of depth in this Arsenal squad.

They didn't have another striker, only Aaron Ramsey as a potential game-changer as a midfielder, and for a club like Arsenal it's simply not good enough. As expected, Arshavin's cameo was entirely representative of a man who hasn't played since Dec. 4 and who has so little interest in regular football that he turned down a loan move to Reading.

What makes it all the more frustrating is that Arsenal did play well in the second half, and if they'd had better options on the bench may well have taken something from the game. It's not as if the club have been stricken by an injury crisis -- it took just two players falling ill to strip the bench of any attacking quality.

The lack of investment in the squad is now bordering on negligent. Arsenal have won just one point from nine in the Premier League in January, and it's impossible, when you see Arshavin thrown on as a last resort, to believe Wenger when he says it's difficult to find players better than those he already has.

This was a game in which Arsenal were found wanting, in which the manager's stubborn refusal to spend money directly affected the team's chances of winning, and from which they deserved little despite the improved second-half performance.

West Ham come to the Emirates on Wednesday. It's a must-win game and one they'll have to play a full 90 minutes to do so.