Jack Wilshere could use more protection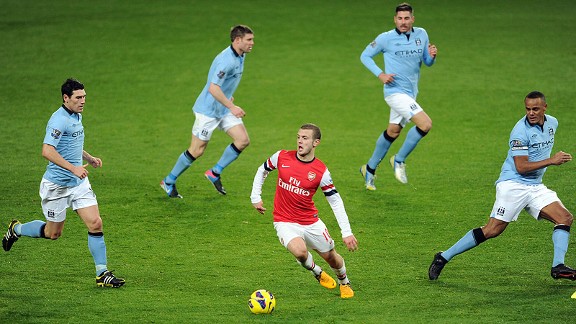 David Price/Arsenal FC/Getty ImagesArsenal's Jack Wilshere could stand to have a little more protection when he is out on the pitch.
At youth level for Arsenal, Jack Wilshere and Emmanuel Frimpong were an outstanding midfield partnership.

Even at a young age Wilshere's quick feet and vision set him apart and made him a hugely effective and productive player. He scored and created goals, and although he was liable to pick up a card here and there (and sometimes a red as his combative nature came to the fore), he stood out as a footballer.

Anyone that wanted to go toe-to-toe with Wilshere also had Frimpong to deal with. His size and physicality at that level made him an imposing and intimidating opponent. He was, essentially, Wilshere's enforcer and if you wanted to get near Jack, you had to get through his mate to do it.

Fast forward to present day and Wilshere is beginning to become indispensable to Arsenal after his return from an unfortunate and ill-timed injury that has robbed him of 14 or 15 months of his career. Similarly, Frimpong has suffered too; twice suffering nasty cruciate ligament injuries which have seriously hindered his development. Loan spells at Wolves (where one of those injuries was picked up) and Charlton have proved inconclusive when trying to determine whether or not his future lies at Arsenal.

But how much would Wilshere love to have, and benefit from, having his great mate, or somebody like him in the Arsenal team now? Against Manchester City on Sunday, he was fouled seven times and, according to Opta, this was 'the joint-most times of any player in any Premier League game this season.'

At one point Thomas Vermaelen lost his temper with referee Mike Dean as Wilshere lay crumpled on the pitch. And while understandable, perhaps Arsenal need to look internally for ways of protecting him rather than to referees and the authorities. How much faith can be had in them in any case, as they've seen fit to overturn Vincent Kompany's red card from Sunday. As this graphic (via @geezypeas) and this GIF show, Dean quite clearly got it right.

- No ban for Kompany

So it's no use imploring and gesticulating when a player is down and hurt, and it would do Arsenal a lot of good to have a bit of steel in their team to help cope with days when their deep lying playmaker is being cynically kicked out of the game. And make no mistake, it wasn't just an aligning of the stars that saw him targeted on Sunday.

In one way it was difficult for Arsenal players to react too strongly, already down to 10 men after Laurent Koscielny's red card, but it's not a new thing. Wilshere, since his return, has been fouled an average of 2.8 times per game. Some of it is down to how he plays -- and you can't be blind to see he can dish it out a bit too -- but if he had a Patrick Vieira or a Lauren in the team with him, somebody who would have no compunction in reminding opponents they can be kickees as well as kickers, it would offer him a measure of protection and, most likely, give him a better platform to play his football.

- Wenger blasts 'timid' Gunners

It's hard to see who that player in the current squad might be. Mikel Arteta's strength is his technique and consistency but he's not a destroyer, a hard tackling intimidating type. Santi Cazorla, the other first pick midfielder, clearly isn't that guy, and although Abou Diaby is a physically imposing player, he doesn't have anything approaching an air of menace about him.

Obviously football has moved on in recent years; the 'hard man' in midfield is somewhat anachronistic, so perhaps it is incumbent on the team as a whole to stick up for Wilshere and others who are repeatedly fouled and targeted by the opposition. But as Wilshere's influence grows, you can be sure the efforts to stop him will too, and that's something Arsenal need to be mindful of.

Finally, while on the subject of protection, Arsene Wenger might need to start showing some faith in his other midfielders. It was an over-reliance on Wilshere that contributed to his injuries and it would be a shame if fatigue or playing one game too much saw him sidelined again. Aaron Ramsey is the most natural replacement and showed against Manchester City he can contribute from central-midfield.

I expect him to play in place of Wilshere tomorrow night against Swansea, and it's a chance for him to prove to the manager that he can give the Englishman a rest when it's necessary.