Arsenal rally but have regrets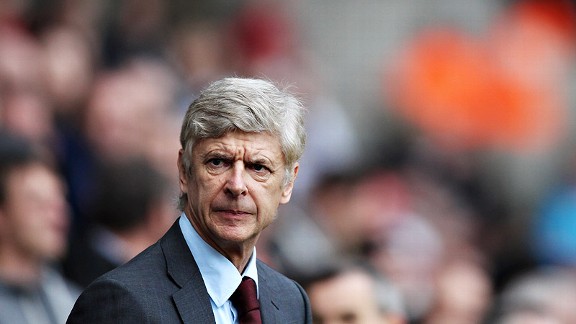 Ben Hoskins/Getty ImagesArsene Wenger has work to do with this squad; as good as they looked moving forward, reinforcements are clearly needed elsewhere.
At 1-0 down with less than 15 minutes to go, the majority of Arsenal fans would have gladly taken a replay against Swansea City. However at 2-1 up with seven minutes left, it wasn't unreasonable to expect the Gunners to guarantee their spot in the fourth round.

Given that the FA Cup is the only realistic chance that Arsenal has of winning a trophy, it was reassuring to see Arsene Wenger pick a strong team for the match, making fewer changes than the hosts in their 2-2 draw. However, the first half was quite tame. Both sides were cagey, with Arsenal struggling to keep shape and cause problems.

More: Danny Graham grabs replay for Swansea

Whatever Arsene Wenger said to his team at halftime clearly had the desired effect. It was the best half of attacking football I've seen from Arsenal in a long time, in that they dominated the majority of the half. Even in the recent demolition of Newcastle, there were long periods in which Arsenal were quiet, but that wasn't the case in the second half at the Liberty.

Arsenal attacked at pace, had runners from midfield and pressed Swansea high up the pitch. The hosts helped Arsenal with some slack passing in their own half and some panicked clearances, but the intensity that the Gunners played with made it difficult for them to escape their half.

The problem for Arsenal was that when Swansea did escape their half, they looked incredibly dangerous. When the game was 0-0, Arsenal looked more likely to break through, yet lazy defending allowed Michu in to score.

Then later on, having gotten themselves ahead in the game, Arsenal then went to sleep on defence again and failed to kill the game off. The whole defence seemed to stand and watch Danny Graham shoot from 6 yards out, rather than busting a gut to try to block the ball. These defensive lapses and moments in which the team loses concentration are too costly. In many ways, Arsenal were fortunate that it didn't cost them an FA Cup exit.

It seems that Arsenal can rarely get the defensive and offensive sides of their game working well at the same time. If ever it happened, Arsenal would move forward quickly as a team.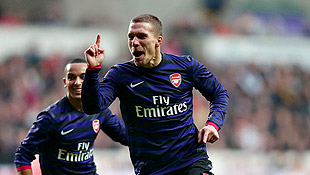 AP PhotoLukas Podolski had a fine finish against Swansea but it's on defense that the Gunners must look sharper.
Also, it's frustrating for the fans that such defensive errors take away from a rousing and impressive second-half comeback, all but sealed with two excellent finishes. After wasting a few chances, Arsenal were getting a bit desperate, but the instincts of Lukas Podolski were brilliant to turn sharply after the ball bounced around the box and smash it into the bottom corner.

However, his goal was bettered by the unlikely source of Kieran Gibbs. The left back usually gets forward well as an overlapping runner but can be horribly indecisive when in the box. There were no such problems on Sunday as he played a lovely one-two with Olivier Giroud, whose chipped pass back was inviting for a volley. Gibbs confidently lashed the ball in at the near post, feeding off the momentum that the team built up in the second half.

Arsenal showed some fight and showed they were desperate to stay in the FA Cup for the majority of the second half. There are regrets that they didn't secure a place in Round 4, but it's hard to feel overly aggrieved about a replay having been 1-0 down.

The extra match isn't ideal in a busy month as it will fall between the Manchester City and Chelsea matches; that said, Swansea also have a two-legged Capital One Cup semifinal to contend with. Yet it does reinforce the need to strengthen the squad sooner rather than later in order to avoid serious fatigue later in the month, and so Arsenal don't let important games slip away from them with a smaller, weak squad.

If Arsenal show the same attacking intent in the replay that they did in Sunday's second half and can stay awake when defending, they should progress to face Brighton in Round 4.