Chamakh wasted his Arsenal chance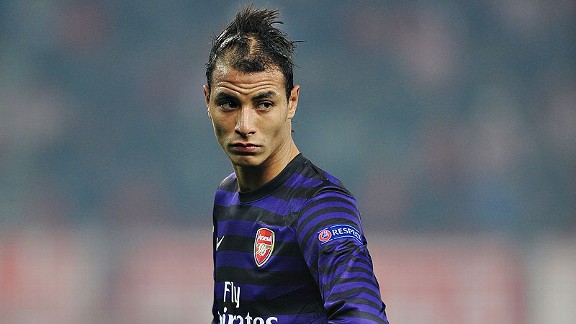 Stuart MacFarlane/Getty ImagesChamakh has scored just four goals in the last two years at Arsenal
When Marouane Chamakh signed for Arsenal in the summer of 2010, he was thrust into action straight away with Robin van Persie absent through injury. The Dutchman's problems were nothing new, and the Moroccan arrived from Bordeaux with a good reputation.

Although adapting to English football can prove challenging to foreign players, he was scoring at a rate of a goal every other game until November, at which point Van Persie's fitness and form relegated him to the bench and his chances were limited. In the subsequent two years he has scored just four goals and his departure to West Ham means he's not likely to play again for the club. The six month loan deal is a prelude to a summer sale regardless of how well he does for the Hammers.

While Van Persie's position as the main striker at the club was hardly a surprise to Chamakh, and he must have known this before he signed, perhaps the fitness issue meant he played less than he had envisaged. He'd spent long spells on the sidelines in almost every season before Chamakh's arrival, there was no real reason to think he could play almost every game, but that's what happened and the former Bordeaux man was frozen out.

Apart from in the FA Cup. And the League Cup. And in certain Champions League games. Games in which he could have shown Arsene Wenger he was still a viable option. He failed to do that, and the performances were in stark contrast to his encouraging early days at the club. He wouldn't ever have convinced you he was a striker of high quality, but he was energetic, honest and he worked hard to overcome his technical limitations. He was good in the air and held the ball up well.

But as his stock faded so too did his endeavour. He looked like a player whose desire was sated by his surroundings and salary, and there were suggestions that he was enjoying life off the pitch far more than he was on it. He was pictured smoking a shisha pipe after a game against QPR, with Arsene Wenger saying: "It's not the best thing to do. We want him to focus completely - without smoking."

He's far from the first footballer to be caught smoking, but it was typical of the malaise which he allowed destroy his Arsenal career. The effort and hard work was gone from his football, the lack of quality that made up for became all too obvious, and this season he's hardly featured on the bench, let alone the first team.

Quite what West Ham see in him at this point is anybody's guess. Maybe he'll thrive again under the more disciplined managerial style of Sam Allardyce, but there won't be too many Arsenal fans sorry to see him go and many who will hope his place in the squad will be taken by a new arrival.