A cup that creates memories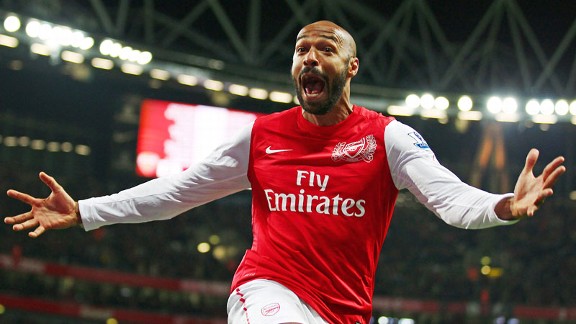 Clive Mason/Getty ImagesThierry Henry's late gamewinner versus Leeds last year is just one of the many FA Cup memories Arsenal fans cherish.
Going into the FA Cup third round match at Swansea City on Sunday, there are quite a few Arsenal fans concerned that Arsene Wenger might not take the competition seriously due to the pursuit of the top four in the Premier League. It is sometimes necessary for managers to prioritise as the season continues, however with Arsenal's wait for a trophy continuing, it would be a great shame if Wenger threw it away by not playing a strong team at Swansea.

- Ubha: Four matches to watch in FA Cup
- Wenger: Walcott not focused on money

In 2008, the fall-out from Eduardo's injury at Birmingham was well documented, but Arsenal undoubtedly also lost some momentum in the title run-in that season after getting beaten 4-0 at Manchester United in the FA Cup in what was a meek performance. A good FA Cup run can boost confidence around the squad, and while it might cause fixture congestion, winning becomes a good habit. If players are winning, fitness can become less of an issue.

The FA Cup might not have the same monetary value of making the top four, and it might not improve the club's UEFA coefficient, but it is a realistic chance of winning a trophy. It is also a trophy that can create memories for fans unlike any other competition. Knockout football can produce more intense atmospheres and has games and moments that live longer than a few matches that helped the team finish fourth. I'm not saying the FA Cup should be prioritised over the league, but it should be taken seriously as it can have a positive influence on the league, both inside the team and among the fans.

To get in the mood for the competition, I've remembered some great (and slightly random) memories from the FA Cup that shows how the traditional tournament comes up with moments that stay with you. In all of them, the joy and excitement from the games were enhanced because of the knockout tournament format.

West Ham vs Arsenal -- 1998 Quarter Final
After drawing 1-1 at Highbury, Arsenal were in trouble in the first half when Dennis Bergkamp was sent off for an elbow that virtually knocked out Steve Lomas. However, Nicolas Anelka gave the ten men the lead before John Hartson equalised to take the game to extra time, and then to penalties. The unlikely hero was Austrian goalkeeper Alex Manninger, who made a series of brilliant saves before saving a penalty in the shoot-out.

Chelsea vs Arsenal -- 2003 Quarter Final
In this replay, Arsenal stormed out to a 2-0 lead with John Terry scoring an own goal and Sylvain Wiltord netting. Chelsea threatened a comeback, but out of nowhere Lauren went on a charge forward from full back, cut in onto his left foot, and stuck the ball into the bottom corner to spark wild celebrations.

Arsenal vs Chelsea -- 2004 Fifth round
With Thierry Henry injured, new signing Jose Antonio Reyes was under pressure to deliver against a Chelsea side that were looking to win their first trophy in the Roman Abramovich era. With Arsenal 1-0 down, Reyes turned the match around with a scorching 30 yard strike into the top corner and a low finish in a one-on-one with Neil Sullivan.

Arsenal vs Cardiff City -- 2009 Fourth round
Eduardo's return from a broken leg made for an emotional night at the Emirates in this fourth round replay. He scored an assured header and a penalty in a 4-0 win.

West Ham United vs Arsenal -- 2010 Third round
One of the great things about the FA Cup is the larger allowance for away fans at grounds. I was in the away end at Upton Park for this 2-1 win, with late goals from Aaron Ramsey and Eduardo turning the game around for the Gunners. The reaction and atmosphere of the travelling fans made it obvious that they still cared about the FA Cup.

Arsenal vs Leeds United -- 2012 Third round
Henry's return would have been magical in whatever game he played in, however his winner in this FA Cup tie gave it an extra edge. The fear of going out was growing around the Emirates before the King came on and saved the day in his 20 minute cameo.

Having been beaten by Swansea at the Emirates earlier this season, Arsenal shouldn't be in danger of underestimating their opponents at the weekend. If the team takes the competition seriously, fans could be left with more great memories and the trophy drought can be ended. If not, Wenger and Arsenal could face a backlash from the fans because while the league might be the priority, the FA Cup produces moments and memories like no other.