Wenger braced for January sales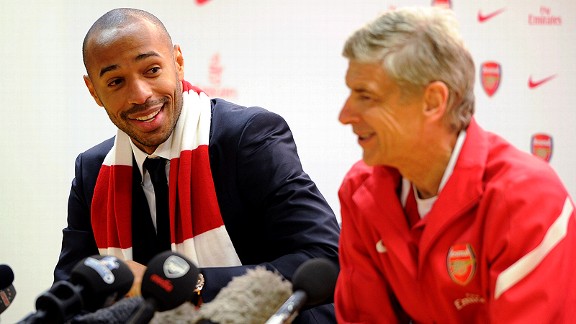 David Price/Getty ImagesCould Arsene Wenger be welcoming Thierry Henry again in January?
The January sales are almost part of people's Christmas routine. They flock to shopping centres trying to get bargains as cost get heavily reduced. You have to be strong-willed to cope with the masses who suddenly emerge. Sales now often start on Boxing Day with shoppers wasting no time to get bargains as soon as possible.

Football managers can't jump in until the transfer window opens Tuesday. Unlike normal shoppers, bargains can be hard to come by for football clubs. A marquee signing in January often comes at a premium price, sometimes making it more difficult to improve squads the way managers want.

Due to Arsenal's stuttering season, and the holes created in the squad during the summer, Arsene Wenger has little option but to invest, and risk paying a premium price for a player, rather than the low price more accustomed in the January sales.

An inflated market could lead to Wenger looking for quicker fixes at a cut rate, if any at all. In November, rumours were strong about a third spell at Arsenal for Thierry Henry. These have cooled substantially, but Wenger didn't rule a move out in his press conference ahead of Saturday's Newcastle match. Arsenal undoubtedly need another striker, or two, to offer an alternative to Olivier Giroud, although many are dubious if going back to Henry a third time is worthwhile.

Being nostalgic, I wouldn't complain if Henry came back for another short-term loan spell. It's likely he wouldn't have the same impact as last season, but his presence would only improve morale. My key question is if he is better than the current options in the squad. There is no doubt for most Gooners that even at 35, Henry is better than Marouane Chamakh.

The problem, should Henry return, is Wenger could view him as the only striker Arsenal need. That shouldn't be the case. The manager needs to sign a more permanent striking option whether Henry comes or not. He didn't sign one to complement Henry last January, and was fortunate Robin van Persie didn't get injured in the Premier League run-in, as Arsenal would have been majorly short up front. Klaas-Jan Huntelaar has signed a new contract at Schalke, however there have still been rumours about David Villa, Fernando Llorente and Demba Ba. Any would improve the squad, and with various contract situations, might not cost the premium price Wenger will want to avoid.

Most other positions also could be improved within the Arsenal squad, although a front man should be the priority. A midfield destroyer and a defender would be appreciated, but those moves could be dependent on players leaving for the manager to justify spending the time and money to sign them while also preparing for matches.

It's good news that, except for Lukasz Fabianski, Arsenal is virtually fully fit. It's unusual at this time of the season, but shouldn't be an excuse for not strengthening the squad. Just because players are fit doesn't mean better ones can't be brought in.

Arsenal have done well in the last three league games to tough their way out of a sticky run of form and turn momentum in their favour. That has to continue against Newcastle. That momentum and more feel-good atmosphere around the club can be improved by Wenger doing well in the January sales.

For regular shoppers, once the January sales are over, stores remain open but the price of goods returns to normal. The way some rush to buy post-Christmas make it seem as if shops are going to close altogether. For Wenger, once his industry's January sales are over, his squad has to have been strengthened as there will be no chance to go back to find the missing link on the shelves.