Arsenal pass the North-West test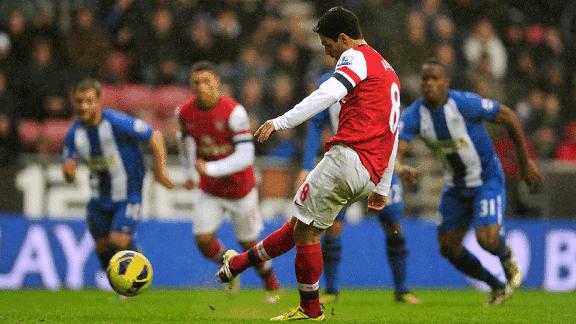 PA PhotosMikel Arteta strokes home from the penalty spot for Arsenal's winner
The failure to win in the North-West of England often seems like an easy criticism to throw at Arsenal. On a wet, cold, grey day, playing on a slightly bobbly pitch, questions are asked as to whether Arsenal are up for it, or if they can play their normal football in such conditions.

- Sagna epitomises Arsenal's defensive focus
- Martinez fumes at penalty decisions
- Arteta spot on for Gunners

Occasionally, that criticism has been unfairly used against Arsenal, however all too often it has been justified as the team's soft centre can collapse. This made the win away at Wigan all the more satisfying.

On my only visit to Wigan, Arsenal threw away a two goal lead in 2010 whilst they were still chasing the title. The soft centre reappeared that day, meaning I'm always anxious ahead of a match away at Wigan (however that day, Arsenal did have Mikael Silvestre at centre back, and Craig Eastmond playing in the holding midfield role).

As a fan, you love it when your team destroys an opponent. Some of the football Arsenal played on Monday away at Reading was sumptuous. However, in a slightly twisted manner, you can get as much enjoyment out of a hard-fought scrappy 1-0 victory, when it seems like the odds aren't always in your favour.

Unlike Reading, Wigan looked really pumped for the visit of Arsenal, and were willing to be physical, close Arsenal down and not allow the Gunners much space to play. Santi Cazorla was afforded little space to weave any magic, whilst Theo Walcott struggled to make much of an impression on the game from a central role, as there was little space in behind the back four for him to spin into. Despite also being against a team in the bottom three, it was clear early-on that the match was going to be very different from the one earlier in the week at the Madejski.

Arsenal didn't dominate the match for long periods, but did enough when needed. The back four stayed fairly solid, with Wojciech Szczesny a calming presence in goal.

There were still a few too many moments when Wigan had space to run at the Arsenal defence, but overall Mikel Arteta and Jack Wilshere worked extremely hard in central midfield. Whilst the Spaniard grabbed a lot of the headlines for his calmly taken penalty, it was the tenacity of Wilshere that stood out for me.

The Englishman did a lot of the dirty work in midfield by making challenges, and being challenged himself to make space for others. Both at Reading and at Wigan, Wilshere took a lot of bruises for the team. As much as it's brilliant to see him launch into tackles, there's a fear that he'll cause himself damage with his all-action style in midfield. Given he's only relatively recently returned from a long-term injury, it's a testament to him that he doesn't shy away from such challenges.

Plus, if you take the physical side out of Jack Wilshere's game, he's undoubtedly a worse player. Many fans who would like to see him further forward, nearer the main striker, however he's so good in a deeper -lying role, that the team would miss something if Wilshere wasn't in the thick of the action. Hopefully as his fitness develops (it's easy to forget that he's still developing because of his age) Wilshere will be able to become a world class box-to-box midfielder, who can break up play and then arrive late to the penalty area to be a threat going forward.

Wilshere's presence undoubtedly helped Arsenal pass the North-West test at Wigan, and helped claim a third successive Premier League win. Everything was understandably doom and gloom after the defeat to Swansea, but despite being 10th, the league was still tight. Arsenal have now put together some good results to move up the table, but have to continue the run against Newcastle next weekend.

Winning games hasn't come easy to Arsenal this season, so knowing they can do so in an environment that has often provided some of the sternest of challenges, should serve them well for the rest of the season.