Bayern a difficult, but fantastic test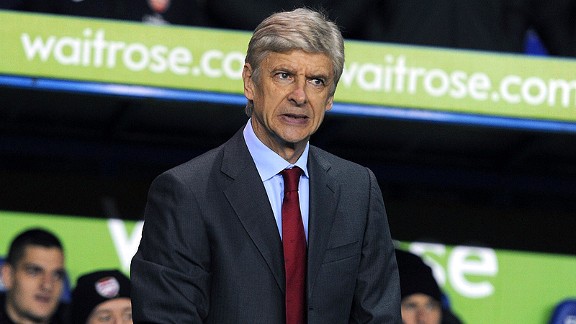 Stuart MacFarlane/Arsenal FC/Getty ImagesIt will be no easy feat for Arsene Wenger's Arsenal side to overcome last year's finalists, Bayern Munich, in the first knockout round of the Champions League.
Arsenal have drawn Bayern Munich in the first knock-out stage of the Champions League, and the Germans, last season's (sadly) beaten finalists, will provide a tough test for Arsene Wenger's men.

- Five commit futures to Arsenal

Bayern chairman, Karl-Heinz Rummenigge said, "I think we enter this match as the slight favourites, but we can be making the mistake of underestimating them.

"Arsenal have struggled at times in the league over the last few months, which a look upon the standings in the Premier League will tell you. But by no means will this be an easy game for us."

And as things stand Bayern are certainly favourites. Arsenal, as we know, have struggled for form and consistency this season, but the games won't be played for a couple of months yet. There's time for the Gunners to add to their squad and improve, and it's not impossible that Bayern's fortunes may have dipped slightly in the meantime. It's not something Arsenal should count on though, and the last time the two sides met the German giants came out on top fairly easily.

Still, this is what the Champions League is all about; pitting Europe's best clubs against one another. The group stages can be something of a damp squib at times, especially when qualification is already assured, so it's when the threat of elimination hangs over the games that things get really interesting. For fans, it's a chance to enjoy big nights against big teams and great players, and every game at this level provides its own challenges.

Arsenal are certainly underdogs, but that's a position that suits many teams and, after the Bradford balls-up, perhaps one of which Wenger is glad. His team have had some great nights at this stage of the competition in the past. They were similar underdogs against Real Madrid on the way to the 2006 final and look what happened there. It's going to be difficult, but not impossible, and that's what makes football great.

Two amusing points to close:

1. The official Bayern Twitter account using the hashtag #seeyasoonpoldi. Podolski will return to a club where his career and reputation took a bit of a battering, so that was a nice touch.

2. Manchester United won their group quite handsomely. Their 'reward' was being drawn against Real Madrid.

Second is the new first!