Building a British core at Arsenal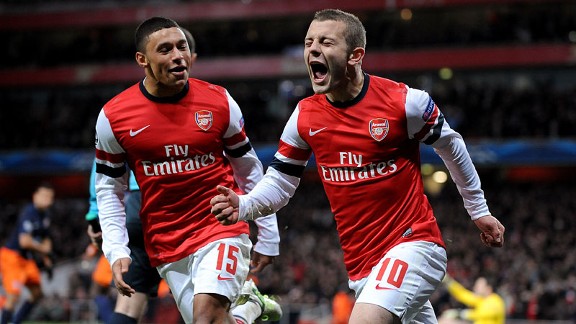 PA PhotosAlex Oxlade-Chamberlain and Jack Wilshere are in for the long-haul
Following on from the rumours and newspaper reports this week, Arsenal have now confirmed that Jack Wilshere, Alex Oxlade-Chamberlain, Kieran Gibbs, Aaron Ramsey and Carl Jenkinson have all signed new long-term contracts at the club. After the transfers sagas that have run throughout the last few seasons with regards to other players, this has to be viewed as good news by Arsenal fans.

- Five commit futures to Arsenal

The pessimists will point to one major absentee amongst the British contingent at the club from the five that have signed new deals. Theo Walcott's situation seems to get more complicated and confusing as each day passes with more and more media rumours, but hopefully he will look at five players lined-up with their contracts with some envy. There have been no dramas over sorting out the new deals, and it represents a statement from the players that they still believe in where the club is heading and want to be part of it for the long-term.

Of those who have signed, the news that Jack Wilshere has put pen to paper will be the most pleasing for Arsenal players. Cesc Fabregas left because of his emotional tie to Barcelona. With Jack, his emotional ties are solely to Arsenal. He appears to take the Tony Adams approach to contract signing; if it's an Arsenal one, he'll sign it. Regarded as a future Arsenal captain by many, Wilshere is already an integral part of the team and has shown his worth in the way he has returned to the squad after a long period out with injury.

Alex Oxlade-Chamberlain made a big impression on the team when he broke through last season and even though he hasn't been at his best this term, he has improved in the last couple of games. His emergence on the right has arguably made Arsenal's desire to keep Theo Walcott slightly less pressing - Oxlade-Chamberlain is a ready-made replacement.

The new deal for Aaron Ramsey will be the one that surprises many fans as the Welshman hasn't always been flavour of the month given his form in the last year; however, he can still improve. He's been played out of position on the wing too often, but should he get the chance to have a run of games in midfield and playing alongside Jack Wilshere should improve the speed of his game. I doubt he'll ever become an integral member of the starting XI, but Ramsey can still be an important squad player.

Kieran Gibbs is established as the first choice left-back, and but for Leighton Baines and Ashley Cole, could regularly be in the England side. His injury record isn't great, but is much better than some at the club *cough* Diaby *cough*. His understanding with Lukas Podolski looked good at the start of the season, so having Gibbs committed means that duo can focus on a settled partnership.

Finally, another full-back signed a new contract, and like Wilshere, was likely to sign anything Arsenal put in front of him. Carl Jenkinson looks a completely different player to the one who appeared to be horribly out of his depth after first signing from Charlton in 2011. With the dark contract cloud beginning to loom over Bacary Sagna, to have a young improving right-back secured at the club is encouraging.

Whilst individually all the signees have their merits, the signal of intent from Arsene Wenger is that he wants to build a core of British players at the club. There is also a greater chance of them staying at the club if they've been developed together and have a strong collective spirit between them.

It's also beneficial to any players joining Arsenal to know there is a strong core of the squad who are loyal to the club. Particularly with the cases of Wilshere and Jenkinson, fans feel like they have genuine supporters representing the club, and therefore they can pass on their emotion and passion for the club to others.

Hopefully there will be others in the squad that follow the lead of the five young Brits and their show of commitment will encourage potential new players to join in January. Whether they all have the quality to consistently perform for Arsenal remains to be seen, but signing all five at once is a step in the right direction and should help all of them develop.