Wenger facing a massive six weeks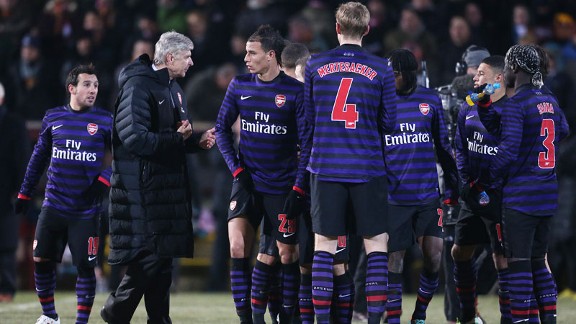 PA PhotosThe next six weeks might prove the most challenging of Wenger's career
Defeat to Bradford in the Capital One Cup was unthinkable, even if this Arsenal side have failed to convince this season. It raises more questions over Arsene Wenger's future, but is unlikely to provoke any reaction from the board, who still fully support the manager.

- Limbert: Arsenal an attractive transfer option?

It does leave the Frenchman in a difficult position though, and the next six weeks might prove the most challenging of his Arsenal career. While there's an obvious focus on January (more on that anon), the next period is equally important.

Dec. 13-Dec. 31

Arsenal play four Premier League games. Away at Reading (17th) and Wigan (22nd), followed by two home games against West Ham (26th -- although this game could be postponed due to a London Underground strike) and Newcastle (29th).

Before he can make any additions to his squad, before he can boost his striking options, add some creativity to his team and freshen things up with new blood, Wenger has to get his team playing again. Under normal circumstances you would say those are four games that Arsenal are well capable of winning. Trying to recover from a humiliating defeat on a cold night in Bradford and being unable to find any kind of consistency means these circumstances are far from normal.

Arsenal have lurched from one game to the next; incisive and robust one week, turgid and off-colour the next. The lack of consistency is a real worry and speaks to a greater problem than just a team unable to find form, but Wenger and his players simply have to dig deep to get through the rest of the month. There are 12 points to play for, and given recent results Arsenal really need them all. Which brings us to:

Jan. 1-Jan. 31 - the transfer window.

Wenger has used the January window before but it has never been this crucial. In January 2009, Wenger played a dangerous game of low-ball poker over the transfer of Andrei Arshavin. It was on, it was off, the Russian flew to England on his own steam, the deal was on again, then it was off again, and it went down so late Arsenal needed special dispensation for it to be ratified.

January 2006 saw the same-day signings of Abou Diaby and Emmanuel Adebayor, before Theo Walcott joined a week later. Walcott didn't make a first-team appearance until the following season, but Adebayor and Diaby played their part in the final season at Highbury, one that also culminated with a trip to Paris for the Champions League final.

One of Wenger's rumoured targets this time around is Schalke's Dutch striker Klaas-Jan Huntelaar. Like Adebayor was in 2006, he would be ineligible to play in Europe, but with just six months to go on his Schalke contract (see, it's not just a situation unique to Arsenal!), he could provide good value, and history shows this is not a deal-breaker for the Arsenal manager.

It's clear Arsenal's forward line needs a real injection of quality. The return of Thierry Henry won't solve too many of the problems -- my personal belief is that Wenger wants him more as a lieutenant in the dressing room than anything else -- but with Chamakh's form in the toilet (a place it's been for 18 months, at least), and Gervinho off to the African Cup of Nations, it leaves Olivier Giroud as the only striker at the club.

If we were doing wish lists it'd be good to see another winger and a central midfielder with some presence and bite to his game. The unfortunate Diaby cannot be relied on, and there are games when Arsenal miss the physicality and size of the Frenchman. It's easy to see how four or five players could be added to the squad; in reality we're likely to see three.

But here's the crucial part -- Arsenal need to get these deals done as quickly as they can. There's no point in brinksmanship, trying to force down the price by leaving it as close to the end of the window as possible. Ideally targets will have already been identified and negotiations will be under way to ensure that the new players arrive sooner rather than later.

With the announcement of the new commercial deal with Emirates, and confirmation from chief executive Ivan Gazidis that there is money to spend, Wenger has no excuses for not bolstering his squad. The most challenging aspect of January shopping is the fact that players are often reluctant to move mid-season and clubs even more reluctant to sell.

And so we come back to normal circumstances, under which Arsenal would prefer to wait until the summer to do their business, but the season hinges on what happens in December and how the club react to make the team competitive again. Buying players is not the only answer, of course, but in this case it's going to be a big part of it.

It's hard to escape the conclusion that some, not all, of the problems Arsenal currently have would have been countered by better spending last summer, but there's no point dwelling on that now. Arsenal have to look to the future and Wenger needs to find his touch again, both on the training pitch and in the transfer market.