Rosick-note to heal Arsenal?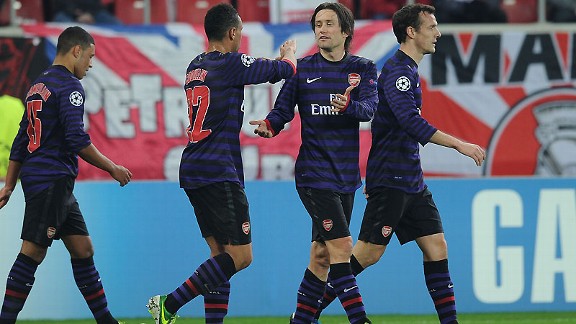 GettyImagesTomas Rosicky celebrates his goal on his first start of the season
Apart from those received from Abou Diaby, the majority of the Arsenal medical department's sick notes were sent in by Tomas Rosicky. The Czech midfielder had 18 months out in 2009 following a string of injuries, then had a few minor problems and recently went another six months out of the team after getting injured just before the 2012 European Championships.

- Arsenal chief: Winning isn't everything

It's been incredibly frustrating for Arsenal fans to see him suffer because his time at the Gunners has not been as successful as expected. After signing Rosicky just before the 2006 World Cup, I purposely watched him in the Czech Republic's first game of the tournament against the USA. He scored two stunners and I and other Arsenal fans got slightly overexcited over the club's new signing.

Rosicky has never quite lived up to that goal-scoring midfielder hype and this has mainly been down to his injuries. In over six years at the club, he has lost well over two years to being stuck on the side lines. When finally able to be fit enough to get a run of games in the team again, Rosicky proved last season that he can heavily influence the side.

When Cesc Fabregas was sold to Barcelona, few envisaged Rosicky as the man to fill the Spaniard's boots. However Rosicky was influential in turning around last season's potentially dismal campaign into a third place finish.

Against Olympiakos on Tuesday, Rosicky made his first start of the season. Although he only lasted 45 minutes, there were encouraging signs that he can offer the current Arsenal team something different and help move them out of the mire. His finish for the goal was crisp, making it look like he hadn't been away for half a year. Arsene Wenger said recently that Rosicky speeds the game up, and that's something I think Arsenal have been missing in recent weeks.

Rosicky is quick to get his head up and looks forward rather than sideways. Whilst there might be others who have played in the creative position behind the striker who had more technical ability than Rosicky, he makes up for that by effort and application. At his best last season, he was chasing back to win tackles and often it was determination rather than raw pace that glided him past defenders.

Arguably Arsenal's two best victories last season were Rosicky inspired. Against Tottenham at home, he contributed to the team over-running the Spurs midfield and stretched the game with intelligent passes and bursts forward. He then did the same in the 3-0 home win against AC Milan and deservedly scored in both matches.

In Arsenal's current state, someone with the attitude on the pitch of Rosicky could be invaluable. When things aren't going well, he can drive the team forward and pick up the tempo. The problem for Arsene Wenger is getting his selection right. If Rosicky is fit enough to start a Premier League match, does he play deeper in midfield alongside Arteta, behind the striker instead of Santi Cazorla or wide in the front three? Personally, I'd like to see him more involved in the centre of the pitch supporting Cazorla.

Rosicky shouldn't be expected to be the great saviour of Arsenal's season. Whilst he's an excellent player, his injury record proves that he can't always be relied upon and could still take some time to get fully up to speed.

Although Rosicky does offer Arsenal fans hope, and there hasn't been much of that in recent weeks. If he features against West Brom on Saturday, hopefully he can help start the healing process in this painful season.