Playing without pressure in Greece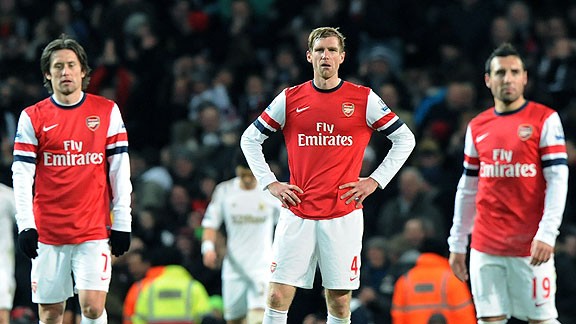 Olly Greenwood/AFP/Getty ImagesDefender Per Mertesacker, center, is one of the six Arsenal regulars getting a much-needed rest
The Champions League trip to Olympiakos Tuesday arguably comes at a good time for Arsenal. There is no time to dwell on the non-performance in the 2-0 loss to Swansea, and the match gives fatigued first-teamers a chance for much-needed rest.

I am extremely relieved Arsenal have already qualified for the knockout rounds of the Champions League. While topping the group would be good, with the current state of the squad, it is better for Arsenal to rest players rather than burning them out further in a match that ultimately won't have a major effect on the rest of the season.

- Wenger resting several regulars

- Marcotti: Wenger's questionable selections

If anything, the Capital One Cup match with Bradford next week would be the more worthwhile match to play a stronger lineup in, with the competition representing a great chance of making a final.

Had Arsenal been going to Athens needing to get a result to make it through, I shudder to think what the reaction of fans would have been had Arsenal gone out at the group stage considering the club's league position.

The players in the squad for Tuesday are in a slightly strange position. There is an obvious pressure to get a win because spirits are clearly low. However there shouldn't be any on the youngsters to perform because it's not their fault that the mood around Arsenal is so downbeat. A lot of the squad are yet to even experience the League Cup, so the atmosphere of a Champions League game will provide them with a great chance to prove themselves.

Hopefully, if they perform well, it will alert the first team they have to buck their ideas up and improve.

If the youngsters lose in Greece, which being honest is a strong possibility, they shouldn't be on the end of any frustrations from fans. It's not their fault Arsenal are in the position they're in. If anything, fans should be wondering why rotating means that so many youngsters are being blooded in a Champions League game, dead rubber or not.

Of the youngsters who have travelled to Greece, I am most looking forward to seeing how young fullback Jernade Meade plays. With Andre Santos and Ignasi Miquel injured, and Kieran Gibbs rested, there is a chance that the young fullback could feature from the start. I saw him play in preseason at Chesham United, who admittedly aren't quite as good as Olympiakos. However, he looked quick, willing to get forward and strong in the tackle.

He also made a late appearance against Reading in the miracle comeback and slotted into the team nicely. He seems to me to be a traditional fullback, rather than a centre back or a midfielder playing there, so Meade is a man to look out for Tuesday.

The starting XI will feature a few more known players, and they will have pressure to take responsibility. The first XI are mainly burnt out because there aren't options are good enough to rotate. This match is a chance for the likes of Maroaune Chamakh, Andre Arshavin, Sebastien Squillaci, Francis Coquelin and others to make themselves viable options for rotation.

For a number of the players who will represent the club in Greece, I think their days at Arsenal are numbered. However, the club needs some to have some pride restored, and they have a chance to provide it. A win would give Arsene Wenger some relief and could see the Gunners top their Champions League group.

A defeat shouldn't be viewed as another disaster. There's no pressure on most of the players to perform, so hopefully they can come back with a positive result. It might be unlikely, but I'm trying to keep some hope in the midst of the negativity around Arsenal at the moment.