Are Arsenal just a bunch of individuals?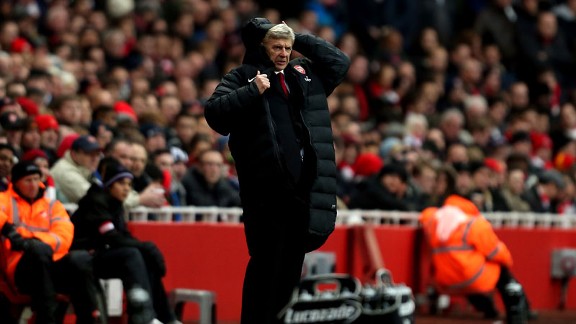 PA PhotosArsene Wenger is under increasing pressure
This season is rapidly turning into a nightmare for Arsenal fans. Five wins out of 15 just isn't good enough for a team that wants to be in the Champions League, let alone one that was suggesting they wanted to win the Premier League this season. Fingers are being pointed primarily at the manager, and it's true that he has a lot to answer for.


- Arsene Wenger to review Arsenal future
- Mangan: All eyes on Wenger as Arsenal slump
- Arsenal stunned by Michu-led Swans
- Blog: Depleted Swans still as deadly

Highlighted by the defeat to Swansea, Arsenal look like a bunch of individuals rather than a unified team with a clear direction. That rings true of the players on the pitch, the management and the board.

Swansea deserved to beat Arsenal on Saturday. Whilst the visitors to the Emirates were impressive in their style of play and application of it, Arsenal were dismal. As much as Swansea were good, Arsenal were bad. Of the Gunners players, only Wojciech Szczesny came out of the game with any real credit. Without the Pole, Arsenal could have been battered.

Looking at the team, it was as if they didn't know each other or hadn't played together before. But that was an excuse for not playing well at the start of the season and shouldn't be the case in December.

All over the pitch there were individuals who had their heads elsewhere with Theo Walcott, who has generally been good this season, a case in point. He wasn't helped on Saturday by the front three looking equally out of tune with each other.

The long awaited midfield trio of Arteta, Wilshere and Cazorla are yet to properly click and dictate a match, with all three seeming to struggle to read what the other is going to do. Defensively, Arsenal were opened up way too easily by Swansea, and only last-ditch defending from Thomas Vermaelen saved the Gunners from losing more heavily.

Occasionally this season, where some players have lacked in quality, the collective spirit has made up for it. That seems to have disappeared. Where is the fight that was shown to come back from 4-0 down at Reading? Are players becoming disillusioned and are more worried about their own needs rather than those of the club? It's hard to know the answers.

But one man who should be finding those answers is Wenger. I'm not adverse to change, but can't bring myself to call for Wenger to be sacked. However, when a club aren't getting results, the man who has to take responsibility for it is the manager. You can't sack half the squad and immediately replace them, it's unlikely that the board will be sacked and immediately replaced, but one manager can be.

Has it reached the point that Wenger's individual philosophies are holding the club back? Many would argue that was reached long ago. It's clear that he is struggling to galvanize the dressing room. A strong collective spirit is something that Arsenal fans would say defines the club, however there seems to be none of that from the team at the moment. That has to come from the manager, and if Wenger is offering it, it isn't getting through to the players.

Then there are those at the club above the manager. The board appear detached from the way Arsenal are sinking down the table and I get the impression that they're also more concerned about their own priorities, losing sight of where Arsenal should be going as a club.

The Swansea defeat served to emphasise the disjointed and demoralised state of the club. Fatigue was used an explanation for the defeat. And that fatigue spreads wider that just the playing squad, the fans are tired of waiting for this much-heralded time when Arsenal won't be restricted financially or otherwise. While Arsenal are waiting, other clubs are improving.

Something has to be done. Be it January signings, a change of manager, a change upstairs in the club, or a change of emphasis in the mind-set of the players. It could take all of them, it definitely needs at least one of them. Personally, I'd least prefer a change of manager, however if none of the other things happen, Wenger's time could be up.

He won't walk away from the club. He cares too much about Arsenal to do that. However, Wenger has to somehow transmit his desire to turn things around to the players, otherwise it's going to be a long, painful and ultimately a failed season, and he'll have to take responsibility for it.

The bunched up nature of the table means that stringing a few wins together should comfortably move Arsenal clear of 10th and towards Europe again. However if togetherness and team spirit don't return to the whole club, the brutal reality is that it's hard to see Arsenal moving anywhere anytime soon.