Arsenal scrap a good point but issues remain
If there was further frustration for Arsenal tonight it shouldn't be because of the point they earned at Goodison Park. They'll look back to Villa on Saturday with some regrets, but against an extremely hard working Everton side a point was well earned.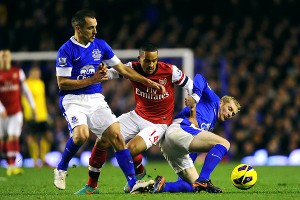 Laurence Griffiths/Getty ImagesArsenal's draw with Everton was acceptable. It's what came before this match that is troublesome.
It was as typical an advert for the Premier League as you're likely to see. Despite the number of foreign players on view it was a very 'English' game, played at a frantic pace from the start, with the home side pressing and harrying the visitors. It really didn't let up from the first whistle until the last.

Theo Walcott's first-minute goal was cancelled out by Marouane Fellaini's strike in the 28th minute – and perhaps Wojciech Szczesny will look back and think he could have gotten down quicker to prevent it. Everton looked dangerous throughout, the Pole was forced into a number of saves, including one from a Sylvain Distin header showed excellent reactions.

As with the game at Villa Park, Arsenal struggled to find an attacking rhythm although Olivier Giroud went close with a header while Santi Cazorla forced Tim Howard into a good stop with a left-footed drive. The issue, once again, is the lack of depth, which prevented Arsenal from really having a go late in the game.

Everton's work-rate was fantastic, closing Arsenal down at every opportunity, but it was obvious that they had tired and in the last 20 minutes, if Arsenal had more quality on the bench it's a game they might have nicked. Certainly the Gunners looked most threatening in that period, but with no striker on the bench, no Andrei Arshavin, Alex Oxlade-Chamberlain probably not trusted in a game which required huge defensive discipline from Arsenal's forwards and midfielders, and a barely fit Tomas Rosicky, the best Arsene Wenger could do was throw on Gervinho for Aaron Ramsey in the 80th minute.

It wasn't enough for Arsenal to get on top and turn the screw on a tiring side when in seasons past it's a game they would have at least been able to try and do that. The manager must know that to make something of this season he's got to nurse these players through to January, then make swift use of the transfer window. There's the core of a good squad there but it needs to be supplemented with real quality.

Arsenal's next two Premier League games are at home (Swansea and West Brom) and they need to react and make up for the points they've dropped on the road in the past five days. In isolation, tonight's result was not a bad one, it's what came before that's the problem.