Arsenal's new commercial deals come with caveats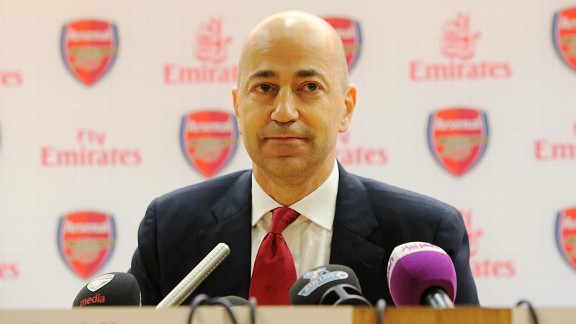 Stuart MacFarlane/Arsenal FC/Getty ImagesFans will be pleased that Ivan Gazidis is negotiating better deals for Arsenal, though there will be discord if the extra revenue isn't invested in the squad.
On Friday, Arsenal announced a 30 million pound-a-season tie-up with Emirates, extending their shirt sponsorship deal with the airline until the end of the 2018/19 season.

It moves the Gunners' finances forward in a big way; the current deal brings in about 5.5 million pounds annually and is a legacy of the stadium project. Therefore, in order to raise money, Arsenal did deals for up-front cash that didn't really provide long term value. Needs must come first, however, and the club has a magnificent new stadium to show for it.

One of the principal reasons for moving from Highbury, the iconic stadium which had been home to Arsenal since 1913, was to be able to compete with the biggest clubs in Europe. Increased attendances, better corporate facilities and all the other trappings (merchandise, food, drink etc.) would allow Arsenal to match the big boys when it came to wages, transfer fees and so on.

Thus far it hasn't quite worked out that way. Many will point to a systemactic policy of selling the best players each season to balance the books; while there's no doubt those sales have bolstered the financials, I'm also quite sure that Arsene Wenger would have preferred to keep Cesc Fabregas, Robin van Persie, Samir Nasri and some of the others despite the cash that was banked from their sales.

So, the very first thing this deal should do is allow the club to be a little more rigid if situations like that arise again. Arsenal simply could not turn down 24 million pounds for Robin van Persie this summer, hamstrung as they were by flat commercial income and the need to invest in the squad. Now, with 30 million extra pounds per season coming in from the Emirates deal, it strengthens the Gunners' hand considerably. After all, the cost of keeping a player for one final season and missing out on a transfer fee is not so great.

It's expected that further deals will be announced in the coming months. The next one is likely to involve the kit manufacturer and there are strong rumours that Arsenal's long association with Nike could end -- another brand that benefited from giving Arsenal money up front when it was really needed -- to be replaced by Adidas.

In today's climate, that could bring another 20 million pounds per season. All of which is fantastic news for Arsenal, but if the stadium debt and those early deals have required some parsimony, there's little excuse now not to invest heavily and properly in the squad.

Not just in transfers -- though clearly this particular group needs strengthening in certain areas -- but in terms of wages too, making Arsenal more attractive to players who leave and say they want to win things but depart chiefly for the finances on offer elsewhere.

In short, this extra money has to go into the team. If the team improves, so do the chances of success and silverware. When a team is successful you don't get empty seats like we saw on Wednesday against Montpellier, your best players feel their ambitions can be achieved and further commercial activity is boosted.

It's understandable that Arsenal have had to make do in recent seasons, but there's already money in the bank and with this additional income available to Wenger in the summer of 2013, it's imperative that the club funds the purchases to ensure they've got a team worthy of their expensive surroundings.