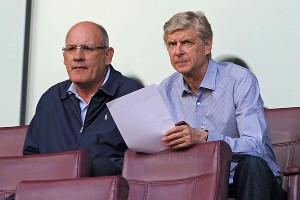 Since Alex Song left, Arsene Wenger hasn't made a significant move in the transfer market. But more needs to be done.

After the first match of Arsenal's Premier League season passed with a slight whimper, I've found the week leading up to the second game has rapidly disappeared. It was clear after the disappointing draw with Sunderland that the team was still a "work in progress" side, and the Stoke match seemed a long way in the distance. However now we're nearing the trip to the Potteries, it doesn't feel like too much has changed.

One of the only interesting pieces of Arsenal news this week was the story that Andre Santos was arrested by police for speeding, something that the Brazilian wouldn't be guilty of on the pitch. To have that as the main story in a week where we expected the team to rapidly develop is, in itself, slightly disappointing.

As fans, we'd been hoping for arrivals and departures in the squad this week. However since the sale of Alex Song, nothing significant has changed. There were a lot of rumours about the loan signing of Nuri Sahin from Real Madrid. But despite some journalists saying that a move to Arsenal was imminent, Arsene Wenger confirmed this morning that the deal isn't alive. It's a shame as Sahin is an excellent player who has arguably been wasted at Real Madrid, and it's made more annoying as his likely destination is now Liverpool, who we play in just over a week's time.

However, depending on which reports you read, Liverpool are paying anything between £5m and £9m for the midfielder, just to have him for a year with no immediate option to buy. Given how careful Arsene Wenger is with money, I'm not surprised he has steered clear of that deal.

I still think we're a few players short of having a very good squad, so we can't afford to let the next week just slip away, like it feels this one has. Hopefully we'll see a resolution on the futures of Nicklas Bendtner and Ju-Young Park, and then we'll sign the needed arrivals in defensive midfield, and in defence. Considering how late it was when we went on a shopping spree last summer, I won't be surprised if the club is working on deals until the last moments of the window.

It all means we're going into the match with Stoke City with a similar squad to the one that faced Sunderland. Alex Oxlade-Chamberlain is available again, and there is a slight doubt over Wojciech Szczesny. However given he reportedly played a large chunk of last season with a back injury, I think he'll do everything he can to be fit.

The Stoke stereotype has been well documented, and Arsenal are the stereotypical victims of it. We have conceded too many goals from throw-ins there in the past, and obviously the memories of Aaron Ramsey's horrific injury are still very painful for most Arsenal fans. The team will have had to do some special planning for the game to make sure we're ready for the more physical challenge that Stoke provide, but we can't go into the game expecting Stoke to be intimidating and therefore put ourselves down as a team before the match. If the players accept Stoke to be overly physical, they're at risk of a self-fulfilling prophecy by accepting they can't deal with Stoke's style.

While Arsenal can't match Stoke in some aspects of the game, there are a lot of aspects that Stoke can't match us in. Hopefully Wenger will play to Arsenal's strengths and not just solely set the team up to deal with Stoke. With the likes of Mertesacker and Diaby in the team, we can deal with their set pieces. However it would be foolish to sacrifice someone like Cazorla in the line-up because he might not be perceived as the sort of player who'll do well against Stoke.

Going to the Britannia is a different challenge, and it could be an eye-opener for some of our new players, but if we keep the ball on the floor and look to attack with pace, we should be able to win the game. While it was hilarious to see Manchester United lose on Monday, made especially funny by Robin van Persie's move, we have to make sure we're capitalising on slips this early in the season. Chelsea, Manchester City and Newcastle all have wins on the board, so we also need to get one as quickly as Santos was driving, and as quickly as this week has disappeared.