Winterburn: Arsenal v Spurs is a battle for fourth place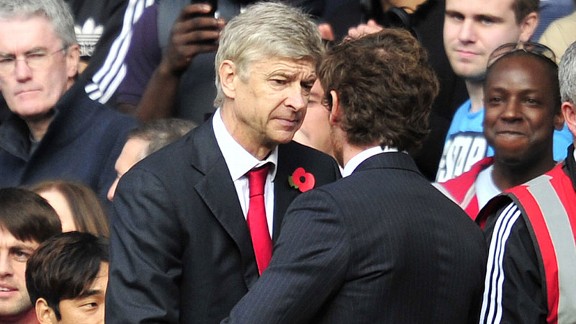 GettyImagesThe first North London derby comes three games into the season.
If derbies supposedly throw the formbook out the window, what happens when the formbook is already there?

One of the curiosities of Saturday's North London derby is that, on what is a rare occasion, both teams are at such a low ebb. As we've seen many times, though, all of the emotion around such a fixture can greatly skew things.

So, when you're on a bad run, is it exactly the wrong time or actually the right time to play a derby?
Nigel Winterburn played in more than his fair share of them for Arsenal and believes it is a game which can knock your confidence just as much as it can lift you.

"Well, a derby game lifts everybody anyway," he said. "It's OK if you've not been on great form, and you take the lead. Then it can propel you forward and give you that belief and momentum back.

"The problem is, if you're not in good form and you fall behind, then it can knock your confidence a bit more. I think it's important from Arsenal's point of view that they try and come away with three points."

Winterburn admits that he is a little "worried" at how the team have dipped after a decent start. He does believe, though, that they have notably lost the dynamism that has characterised Arsene Wenger's sides in the past.

"The weird thing for me is that they've had a couple of very flat performances, Norwich and Schalke," he said.

"Schalke away was much better in terms of how they started to create a couple of chances even if they conceded goals. Then, at the weekend, they conceded against Fulham. So it doesn't look as if they've quite got the balance of the team right.

?When I look at the Arsenal team and I look at the performances, the one thing that I notice is, I look at the pace and penetration in the team and, to me, that didn't quite look right for several games this season.

"Norwich away, they didn't seem to work out a way... they kept the ball at times but they never really could work a way in behind the back four. I think it's the penetration, the moves in behind the opposition, quick short passes and obviously pacy players to help you.

"If you look at the teams that have really done well for Arsenal, they've always had a lot of pace in their team and that pace has been missing so far this season."

That is exacerbated, meanwhile, by teething problems at the back -- another far cry from the back four he formed a part of.

"I speak to Steve [Bould] quite regularly and he has a positive effect on the team," Winterburn revealed. "I think Steve knows as well as I do that it takes a long time to work on defensive performances and get it right.

"Along the way, things do go wrong. Steve and I, Tony [Adams], Martin Keown, Lee [Dixon], we worked relentlessly at defending for a long, long time. You hope you can change things around very, very quickly but, usually, to mould a back four how you really want them can take months. I think we'll see it more towards the end, if not next season."

That lack of balance has given way to a lack of belief. Coming from a team of such durable characters, Winterburn's views on it are interesting.

"I'm always of the belief you have to drive yourself to achieve," he said. "It shows more when things are not going well, that desire to put things right yourself. For me, I think natural leaders are the ones that drive forward, and unfortunately you can't manufacture that."

A problem for Arsenal is that they can't seem to buy it either.

"I'm not fully aware what restraints there are, if any, on Arsene Wenger at the moment on the type of player they can bring to the club and the type of player they can bid for. I've always been led to believe that, at this moment in time, Arsenal can't afford to spend £30m on a player plus his wages. I just don't think they've got the financial clout to do that.

"If you've not got the strongest squad, everything has to be perfect for you to at least challenge for the title and it's just not working out for Arsenal. It may do but I think, you know, 90% will say it will be a battle for fourth place at best."