Forget formation, it's about concentration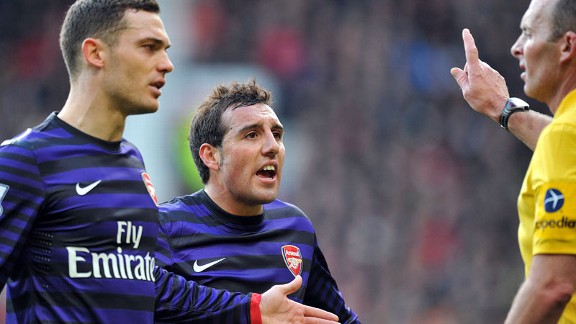 PA PhotosArsenal have been poor in defence, with Thomas Vermaelen disappointing
As Arsenal continue to struggle to find consistency and form, solutions are put forward from all and sundry.

According to many, the problems Arsenal had at left-back with Andre Santos would be solved by moving Thomas Vermaelen to that position. The fact that the Gunners have conceded five goals in two games with the captain there suggests that the problems run a bit deeper than the erratic Brazilian.

- Giroud: We must tighten defence
- Wenger: We can still win the league

Some posit a return to 4-4-2 would get more from the current squad, and the latest suggestion is that Arsene Wenger is considering a 3-5-2 formation. I think that's unlikely for a number of reasons, not least of which is that it's rare for any manager to change the team's set up so radically during a season. Not to mention the fact that Arsenal have three decent centre-halves but injury and suspension would require Wenger to plumb the depths of his squad to fill the gaps (Sebastian Squillaci, for example, made just one Premier League appearance last season - and that was a 10 minute spell at Fulham).

But what Arsenal need, more than any formation change, is to cut out individual mistakes and re-find the defensive focus with which they started the season. Granted, Sunderland were not exactly the most threatening of opponents on the opening day, but Stoke away is a good example of how Arsenal's defensive discipline nullified a team who have always been dangerous, especially at the Britannia Stadium. A clean sheet followed against Liverpool in the 2-0 win at Anfield but too soon errors crept in and Arsenal became leaky again.

Look at the Premier League goals conceded:

1 v Southampton - goalkeeper error from Wojciech Szczesny. Preventable.

1 v Man City - slack marking from a corner. Probably preventable.

2 v Chelsea - poor defending from set pieces after two silly fouls by Thomas Vermaelen. Both Preventable.

1 v West Ham - defending could have been better but it was a fine goal, we'll give them that one.

1 v Norwich - Tettey not closed down quickly enough and shoots, Mannone pushes the ball into the path of Holt who is played onside by Santos. Preventable. Preventable. Preventable.

2 v Man Utd - Vermaelen error presents chance for van Persie. Preventable. Evra's second, perhaps better defending might have prevented the chance but not so clear cut as the first.

3 v Fulham - Berbatov allowed a free header from inside the six-yard box. Preventable. Mannone should save Kacaniklic's header for Fulham's equaliser. Preventable. Overplaying in defence means Arteta is forced into an error to give Fulham the penalty. Preventable.

Of course it's impossible to think that players won't make mistakes and at the highest level of the sport they're punished more often than not, but it's the sheer number of them which are causing Arsenal problems. A manager can't legislate for his captain, and supposedly one of his best players, shanking a clearance into the path of the league's deadliest striker, but he can certainly seek improvement from that player. The same goes for defenders whose marking is sub-par and goalkeepers who ought to make saves.

I don't believe that playing with two up front or with three centre-halves addresses this issue in any way. Arsene Wenger will obviously be demanding more from this players in the lead up to this Saturday's North London derby (when they get back from their useless jaunts around the world, that is), but it's not a matter of changing formation, it's improving concentration.

What separates good players from very good players is their ability to stay switched on and focused for the full 90 minutes. One small lapse is the difference between three points and one, or no points at all. In a high stakes game, like the next fixture against Spurs, there's no excuse for the kind of errors seen in previous games.

And at a time when Arsenal badly need a result, mentality may well be the key.