Arsenal: the most confusing team in England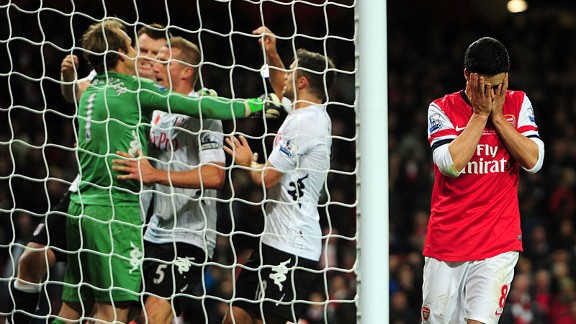 GettyImagesMark Schwarzer saved a penalty from Arsenal's Mikel Arteta
It's hard to know what to make of this Arsenal team. 2-0 up against Schalke in midweek, they let it slip to draw the game.

On Saturday, against Fulham, the Gunners went 2-0 up again and once more failed to hang on to the lead, before letting the visitors get ahead in the second half. You can't look at those defensive performances and have any confidence that Arsenal will keep the opposition at bay.

- Arteta miss costs Gunners

Three clean sheets in the first three games pointed to improvement at the back, but just one in all the games since suggests that was an anomaly.

But Arsenal showed character to come from behind on Saturday. Berbatov's penalty might well have knocked the stuffing out of them; instead, they responded well and the impressive Olivier Giroud scored his second header of the day to draw the Gunners level. And although this was a game they could have lost, it's a game they should have won in injury time.

Mikel Arteta won't sleep well tonight, having conceded a penalty at the wrong end then missed the chance to take all three points, but at least there was that bit of character to come back into it. Like the Reading game in the Capital One Cup when they came from 4-0 down, Arsenal showed they'll keep going, keep trying and have the ability to score goals when not playing well.

Yet it shouldn't be glossed over that Arsenal didn't play well on Saturday. The fluency of their game is gone, bedeviled by self-doubt and self-destruction, and this is what makes them confusing. If you have the character to pull yourself back into a game having gone behind in disheartening circumstances, why isn't there the character to hold on to a two-goal lead? Coming back from 4-0 down against Reading is remarkable, but maybe you shouldn't be going 4-0 down to Reading in the first place.

Arsenal are a shambles defensively. Berbatov's first was a header from inside the 6-yard box, and he didn't even have to move, and as well as Vito Mannone played against Schalke in midweek, questions have to be asked about him for Fulham's second goal. As for their penalty, sometimes Arsenal need to be a bit more industrial and get rid of the ball from dangerous areas more quickly. It's a wonderful thing when you work the ball out of defence but it's high-risk, and when it goes wrong, as it did on Saturday, it can be so costly.

So while the missed penalty will be the immediate focus, when the dust settles Arsene Wenger has to look at why his team dropped two points at home, why they let Fulham come back from 2-0 down to go 3-2 up, and how he's going to turn things around ahead of next weekend's crucial North London derby. Arsenal could have lost, should have won, and as the season progresses it's hard to escape the reality of the league table.

As @Orbinho rather chillingly points out on Twitter -- "This is Arsenal's worst start to a season in 30 years since 1982-83 when they had just 14 points after 11 games." The manager then, Terry Neill, was sacked in December.

There are clearly positives. Giroud's two goals were brilliantly taken, and he looks to give the team a genuine aerial threat; the move for Podolski's goal was excellent too; and Arsenal look like a team who, if they click, could easily go on a run of wins. But as long as the defensive problems remain -- and there's no sign that they're going away, or even getting any better -- they'll always struggle in games that have, in the past, been routine.

And without improvement, and soon, this is a season that will prove more and more difficult.