Walcott centre of attention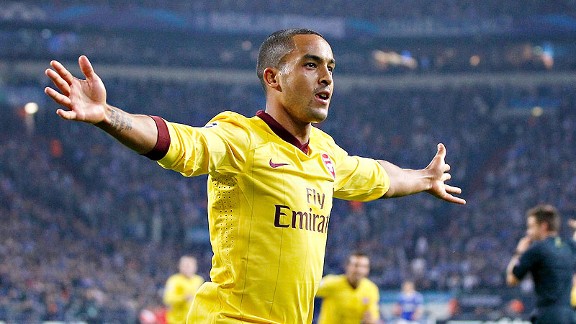 Boris Streubel/Getty ImagesTheo Walcott is proving to be a success from out wide
It's a horrible recurring theme for Arsenal fans. Important players don't sign new contracts and either get sold with just a year left, or they run it down and leave on a free transfer. This year it's the turn of Theo Walcott to be under the media microscope.

- Walcott: I deserved to start
- Podolski demands central role

One of the problems with Theo is that he should have been under the microscope last year, however the attention on Robin van Persie meant that Walcott's contract issue flew under the radar. Now Arsene Wenger is asked about it every time he's in front of the media. Walcott has split opinion amongst supporters in the past. However, having seen other players leave acrimoniously, there seems to be a greater swathe of opinion for him to stay with calls for him to Sign Da Ting.

One of the key issues reported to be a deal breaker is Walcott's desire to play as a central striker. It's understand why he wants to, and with his current form he has a decent claim to do that, however it's essential for him to make that switch.

Walcott has clearly made a good start to the season from the right wing, and if he's being successful on the flank, is there a need to change position? In the last few seasons, Walcott has almost always been stuck to the white line and hasn't moved inside to get scoring positions. Although this season it does seem as if Walcott has learnt when to time his runs forward and make bursts through the middle. He's not restricted himself to the right wing this season, and has effectively been a striker as well as a winger.

When playing in the middle, it would be harder for Walcott to bring others into play and find space. Coming in from the right wing, he's harder to mark. His first two goals at Reading came from running across the centre backs from out wide and joining attacks late on. He can be easily shut off by centre backs if he receives the ball with his back to goal, but by running through the middle from the wings, he has momentum to go past defenders and be one-on-one with the goalkeeper.

Undoubtedly, Walcott's finishing has improved. In previous seasons, as soon as he had time to think about the strike it usually went wrong. If it required an instinctive finish, he tended to do better. He's looked calmer in front of goal, emphasised by the excellent finish at West Ham and his first strike at Reading.

Against Coventry in the League Cup, I was critical of Walcott for not sticking to the flank and making team look slightly imbalanced, however, he's proved me wrong by roaming more to sniff out chances. That was highlighted by his goal at Schalke because it was no coincidence that he was following in towards goal rather than leaving Olivier Giroud to finish himself. Walcott looks hungry for goals, and they're coming from the right hand side.

Would he score more if he was playing on his own down the middle? Probably not, but with his improving finishing, he could be dangerous as a poacher in the penalty area. Given his link up play from the right with Olivier Giroud the two could form a decent partnership up front. But by shifting Walcott it would affect the whole shape of the squad, and without two strong central midfielders, Wenger is unlikely to switch to the 4-4-2 that would allow Walcott to play up front.

At the start of the season, fans were unsure if Walcott would ever be an important player for Arsenal. Now they're desperate to see him stay. If he can continue his form, he has to get a run in the team and hopefully he'll realise that although he's not playing as the main central striker, he's still playing as a forward and having success.

I fear Walcott will either leave and there will now be plenty of takers. There can be times where Theo is immensely frustrating, but he's showing this season that he can make a difference. Hopefully a compromise can be found, whether it's financial or about Walcott's position on the pitch. If not, Arsenal will be worse off.

Against Fulham, on Saturday, it might be interesting to see Walcott start up front just to see how it works. However, Arsenal aren't really in a situation in the season to start experimenting. They need points, and Walcott coming in from the right has worked well so should continue exploit that. If he scores again, the media interest in his contract will intensify, and the need to get a resolution will become more urgent.