Circumstantial disappointment
After the flat display against Manchester United on Saturday, and facing a team in the Champions League which beat them at home a couple of weeks ago, I think Arsenal would have happily taken a point if offered it before the game.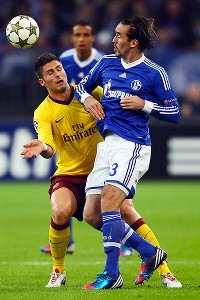 Christof Koepsel/Bongarts/Getty ImagesArsenal's draw with Schalke leaves the Gunners in a strong position on 7 points with a home game against Montpellier to come.
The circumstances of the point they won after a 2-2 draw mean they'll have regrets but in the overall scheme of things it's not a bad result at all. Schalke showed again they're a good side with quick movement and thought, and there was always a hint of danger from them. The early stages in particular saw Arsenal suffer down their left again, despite the fact that Thomas Vermaelen had been chosen there to bring more solidity to the back.

The first Arsenal goal came against the run of play, Theo Walcott sparing Olivier Giroud's blushes when the Frenchman should have done better when clean through. The £12.5m man made no such mistake a few minutes later, losing his marker in the box and planting home a good header from Lukas Podolski's excellent cross. The near-post finish was reminiscent of his goal against West Ham, from the same kind of delivery, and perhaps it suggests the two new men are beginning to forge something of an understanding.

There always seems to be a 'but' about this Arsenal side, though, and too many goals this season have come from individual errors. Santi Cazorla was a bit unlucky when he slipped and lost the ball in midfield, and Schalke were so quick to take advantage. A ball to Klaas-Jan Huntelaar and bang, the Germans were back in it in first half injury time. Any time you concede is a bad time but that's a particularly damaging moment to let one in, and one that could have been avoided (it was notable that Cazorla wasn't the only Arsenal player who found the pitch slippery tonight).

Their equaliser, after a lot of pressure, will go in the record books as a Vermaelen own goal but the Belgian wasn't really at fault. He did what he could to get across to Farfan but had to contend with a man in the middle when the initial cross came in. You might ask if Lukas Podolski, watching on from the edge of the box and nominally obliged to cover his left back, could have been more aware of the danger but when things aren't going your way a shot is more likely to deflect in than wide. The captain isn't at his most comfortable at left back, but he may have to put some time in until Gibbs comes back.

In the end the draw leaves Arsenal in a decent position in the group, on 7 points and with a home game against Montpellier to come. Win that and qualification for the knock-out stages is more or less guaranteed. The result tonight is one tinged with 'if only' but on paper it's a decent, and very important, point.