There will have been many fans who expected Arsenal to lose at Old Trafford. Before the match, a part of me feared that the team could be on the end of another embarrassing thumping. Optimism had been renewed slightly after the Capital One Cup comeback at Reading, but generally the mood wasn't as positive as it has been in previous years before facing Manchester United.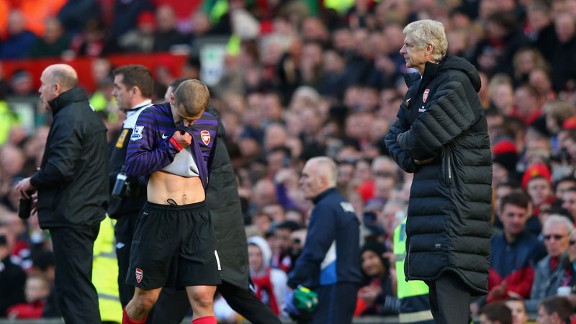 GettyImagesJack Wilshere after being sent off against Man United


However, after some of performances in recent weeks, the least fans thought they could expect would be for the team to actually have a go at Manchester United. Ultimately, the 2-1 score-line was flattering on Arsenal, with the lack of adventure in big games seems to be holding the team back.

I can understand why teams go to Old Trafford and try and to set up to be solid, and then build pressure as the match goes on, however Arsenal couldn't even do that. With Vermaelen suffering a worryingly large decline and Santos being an embarrassment both during the game and at half time, the team that initially started the season with a huge defensive improvement looked ready to be opened up whenever Manchester United chose to.

The balance between gung-ho attacking and setting up defensively away from home can be difficult for a manager to strike, however when 1-0 down, Arsenal could and should have shown some more attacking intent. Arsene Wenger's teams in the past have been able to go to the big clubs and at the very least, create a few big chances. Despite having plenty of possession, there were very few passes forward into dangerous positions, and very little service for Olivier Giroud.

I don't know whether this lack of creativity or urgency to attack is coming from the manager attempting to get the team to control the pace of games, or if it's from the players not taking responsibility on the pitch to try and make something happen going forward, rather than just keeping possession. Albeit with a mostly different XI, Arsenal were forced to attack at Reading on Tuesday, and it paid off. There was more urgency to attack, things were done at pace, and they unsettled the opposition. Manchester United always looked comfortable because everything Arsenal did was in front of them and there was always time for them to regroup and nullify any threat.

One or two of the players might be determined to drive the team forward when they have the ball, but the whole squad don't seem to be on the same wavelength as to when to do that. Sometimes that leaves Arsenal short in midfield when defending, or players become frustrated and channel aggression in the wrong way. It happened to Jack Wilshere on Saturday, and he was deservedly sent off. It would be daft to attempt to hide behind the referee's decisions because Jack Wilshere had to go.

However, even though Wilshere was sent off, a lot of Arsenal fans will look at his aggression, whilst it was channelled in the wrong way, and hope that others could actually show some similar determination to reverse things when playing for Arsenal. It doesn't feel like all that long ago that Arsenal went to Old Trafford and a mass brawl was inevitable. I don't want players getting sent off for things like that, but other teams were unsettled when Arsenal came to town. On Saturday, it appeared that Arsenal were just a slight inconvenience to Manchester United winning three points, and were never a serious threat in the match. There's no point going into games against the big teams and being friendly towards them; you're just setting yourself for defeat.

Part of the problem, both on the pitch and at boardroom level at the club, is that there appears to be a serious aversion to any sort of risk. The team aren't in great form, and sitting back and not attempting to change it can just lead to a succession of poor results. Starting in the big game at Schalke on Tuesday, I want to see Arsenal show more attacking intent and adventure going forward.

Could that lead to a bigger defeat being picked off on the counter attack? Possibly. However if Arsenal do lose games, fans want to see them lose after knowing they threw everything at the opposition. On Saturday, they barely threw anything.