Half-hearted Arsenal make it easy for United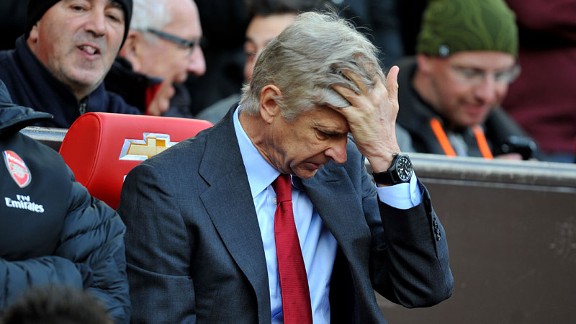 GettyImagesArsene Wenger during the game against Man United
If there was a moment that summed up Arsenal today it was Andre Santos chasing Robin van Persie as the teams went in for half-time ... to ask for his shirt.

It's not the first time players have swapped shirts at the break (although it was telling that it wasn't a swap as much as a van Persie donation), but that the Brazilian felt this was an appropriate thing to do with his team a goal down after a poor first-half display epitomised the lack of fight in the Arsenal team. That he chose to beg for the shirt of a man who left the club in such contentious circumstances, a man for whom the fans have little time and, more pertintently, a man who scored the opening goal, well ... it's hard to find words suitable for a family audience.

A Robin van Persie goal was inevitable, that it was gifted to him by Thomas Vermaelen was not much of a surprise either. His mistake allowed the chance that the Dutchman dutifully tucked away, and it's not the first time this season that individual errors by the captain have proved costly. A penalty concession against Montpellier saw Arsenal go behind in Europe and two needless free-kicks led to Chelsea goals in their win at the Emirates. If Arsene Wenger isn't worried about the Belgian he really should be.

Alongside him Per Mertesacker was probably Arsenal's best player on the day but if Wenger has pause for thought it's because Laurent Koscielny has been similarly error prone this season. Vermaelen talks a good game but gone is the barnstorming, never-say-die, attitude that used to be his trademark. He looks nervous and failed to provide the kind of leadership Arsenal needed on a day like today.

If the defensive issues are always a factor, then Arsenal's total lack of attacking cohesion is a bigger concern. The first shot on target came in the 91st minute when an Arsenal, down to 10 men after Jack Wilshere's dismissal for two yellow cards, fashioned a chance for Olivier Giroud. David de Gea saved it but until then he went through the game completely untroubled.

Lukas Podolski was anonymous again and looks like he's not 100% fit. Giroud received little or no service but found himself on different wavelengths to Cazorla and the German when Arsenal did get into the United final third. The Spaniard's goal was splendid and did nothing but add a touch of gloss to the scoreline.

The truth is United could, and should, have won by a greater margin. Wayne Rooney missed a penalty, Antonio Valencia missed a tap-in after another Vermaelen error early in the second-half, and there were chances for Anderson, Carrick and van Persie to extend the lead. A combination of poor finishing and decent saves by Vito Mannone kept the scoreline down.

Amazingly, stats will tell you that Arsenal had more possession (52.1% to 47.9%) and made more passes (521 to 461) but the conclusion to be drawn is that United were simply better on the ball, more clinical, more direct and a lot more dangerous. Arsenal, leaden footed and half-hearted, could have passed it around until sundown and never really looked like scoring.

It's a disappointing day for Wenger and his team, supported loudly and proudly by the fans who travelled to Manchester. If the team had shown half as much heart as they did, they might have got something from this game.