Manchester United rivalry is still the big one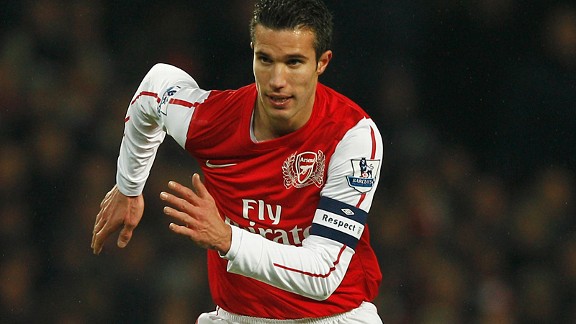 GettyImagesRobin van Persie: Quit Arsenal to join Manchester United
Rivalries in football can be hideously painful. Growing up as an Arsenal fan, I obviously learned that the North London derby was the biggest game in terms of local rivalry; however, looking at the wider reaches of the country, I always regarded playing Manchester United as the big game in the season.

- Brewin: Wenger revisits scene of darkest day
- Wenger urges Arsenal fans to respect RVP

After Arsene Wenger became the Gunners' boss and before Roman Abramovich took over at Chelsea, the Premier League title race tended to be played out between Manchester United and Arsenal. Having grown up following the club in that period of time, every match between the two mattered. There were some great goals, some significant scraps and some incredible memories. It always seemed that if you could beat United, you could be considered the best in the country.

The edge has been taken off the match slightly in recent years. Sir Alex Ferguson and Arsene Wenger's mutual respect for each other has increased, probably because Arsenal are less of a threat to United, and warriors such as Roy Keane and Patrick Vieira have moved on. Being realistic, there's still a frustratingly large gap between the two clubs' title credentials, however the Gunners still have a good chance of winning at Old Trafford on Saturday.

and that previously missing edge could return to the clash with Robin van Persie appearing against Arsenal for the first time since jumping ship in the summer. There's also the want for Arsenal to not get battered again after the humiliating 8-2 pasting handed out last season. Whilst still on a footballing high from the miraculous comeback at Reading, I'm going to be positive ahead of the United game by looking back at some great memories of games at Old Trafford.

1998 - For many fans, seeing Marc Overmars race away from Gary Neville and slide the ball under Peter Schmeichel was a moment where belief began to grow that the club could wrestle the title out of United's grasp. There was also a stand-out performance from young Austrian reserve goalkeeper Alex Manninger, making the 1-0 victory more remarkable.

2002 - Having been smashed 6-1 away to Manchester United in the previous season, it was immensely satisfying to win 1-0 at Old Trafford in May 2002. It just so happened that the victory confirmed Arsenal as Champions, and double winners, in their rivals' back yard. In one of the strongest Arsenal squads I've ever known, the team were without Tony Adams, player of the year Robert Pires, Dennis Bergkamp and Thierry Henry. However they dominated the match and never looked in real danger of losing. Freddie Ljungberg's burst of pace and saved shot set up Sylvain Wiltord to score the goal that still makes him a legend in my eyes.

2003 - In the season after winning the double, Arsenal were beaten at Old Trafford in the league. However on a Saturday in spring they travelled to Manchester for the fifth round of the FA Cup. There were the inevitable tetchy moments with Patrick Vieira unsettling things, however, a deflected Edu free-kick and another Wiltord strike secured a comfortable 2-0 win.

2003 - Although the Gunners didn't win against United in 2003/04, the game at Old Trafford is regarded by many as a seminal moment in the unbeaten season. Ruud van Nistelrooy could have eradicated any chances of getting near the 49-game record with a last minute penalty, but crashed the ball against the crossbar and the ensuing melee brought multiple bans - and a fair degree of disgrace on the club - but a new found togetherness that served the squad well for the rest of the season. Patrick Vieira had earlier been sent off and Martin Keown further wrote himself into Arsenal folklore.

2006 - After moving from Highbury to the Emirates, Arsenal were sitting 17th in the table after three games, and hadn't been ahead in any match all season. A trip to Old Trafford could have been the worst place to go when in that form. Even though Gilberto missed a first-half penalty, Cesc Fabregas dictated the match from midfield, and grabbed a late assist for Emmanuel Adebayor to score. In a challenging season, that win formed the first half of league double against Manchester United.

That game in 2006 was Arsenal's last league victory at Old Trafford, which doesn't bode well for the match on Saturday. Some of Arsenal's recent performances also are a cause for great concern, plus there's a sense of resignation amongst some supporters to the fear that former Gunners captain Van Persie will score a few goals.

Although after the week Arsenal fans have had, it feels like it's impossible to write off anything in football. Am I worried that the Gunners could be on the wrong end of another thrashing? Definitely. However, if the players can feed of the fans' desire, a crazy week could end with another surprising Arsenal victory.