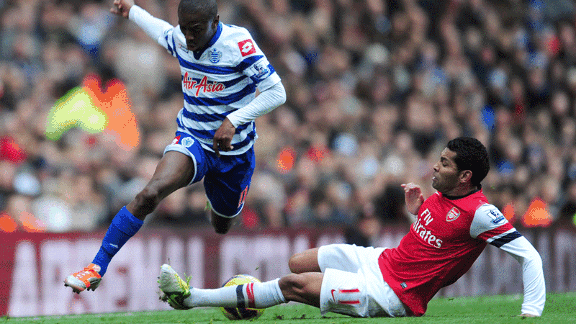 PA PhotosAndre Santos: Did not play as badly against QPR as many pundits made out
As I mentioned at the bottom of a piece I did for my own blog, I watched the 1-0 win over QPR with just the sounds of the stadium to soothe me.

- Wenger urges Wilshere caution
- Arsenal name changed squad

There was no commentary, no punditry, no half-time 'analysis', nothing at all to influence what I was watching apart from the most important thing of all - the football itself. That meant that things simply happened without anyone trotting out the lazy, repetitive, and inane clichés which are, like it or not, part and parcel of the coverage these days.

Every little mistake is a disaster and further proof that a player, or a team, is not of the required quality. Themes follow on from previous games, whether or not they're relevant in any way. I am guessing now, and I'll freely admit this, but based on post-game chatter, I suspect across the various networks Andre Santos was given a hard time by commentators, co-commentators and the so-called 'experts' paid actual, real money to give their opinions during and after the game.

There's no question the Brazilian had poor games against Norwich and particularly against Schalke, but against QPR I didn't see any real issue. Yes, there were times QPR attacked down our left, but I wonder if, when we attacked their left, whether there was similar criticism of the opposition full back?

The fact is Santos completed 91% of his passes, almost a third of those at the attacking end of the pitch, completed 4 out of 5 crosses, won 4 out of 4 tackles, made five interceptions, had one attempt on goal and made three clearances (one of which showed real strength on the edge of the box when under serious pressure from Bobby Zamora).

Of course stats don't tell the full story but they give you a good picture of how a player has performed. Has he done what was asked of him? How did he fare against direct opponents? How were the basics, such as passing, tackling, heading etc?

This isn't to mount a defence of Santos, nor to hold him up as the greatest player to play left-back for Arsenal, but to illustrate that frustration with a player's performance can often be influenced by the way other people talk about it, rather than the performance itself. The same goes for the team. After two defeats in a row Arsenal were in a difficult place, and it's easy to then set the narrative so it focuses on the negatives.

For example, it took Arsenal until the 86th minute to score. Against the bottom team. Who had 10 men. And it was offside. Every missed chance was further evidence that the 'crisis' that was on the agenda to begin with is the opinion du jour; one that everyone should hold, repeat and draw conclusions from.

Watching the game without that influence meant I quite enjoyed it in the end. What's not to like about scrapping, properly scrapping, throughout a game, peppering the opponent's goal with shots and then scoring a late, late winner? Of course I was well aware of how we'd struggled in previous games but without being reminded of it every five minutes it wasn't a constant, frustrating, rage-making companion.

I should clarify that this is not a suggestion that all in the Arsenal garden is rosy, far from it. But it's clear that, in general, post-game thoughts are influenced too much by the men on the telly rather than what's been seen.

I don't know if it's an option for many people, but if you have it I would recommend turning the commentators off occasionally, and let the sound of the crowd, the shouts of the players and the action on the pitch be your guide instead.