Arsenal scrap for win to end a bad week well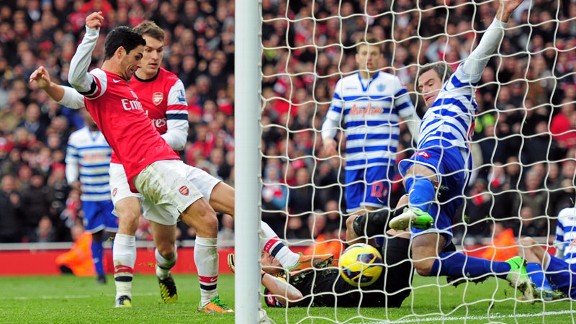 GettyImagesMikel Arteta knocks the ball over the line for Arsenal's winner
Expecting Arsenal to follow up the two performances they dished up in the Norwich and Schalke games with a convincing, fluid display against QPR on Saturday was always going to be unrealistic.

Arsene Wenger has said many times that confidence is a quality that's lost quickly but that takes time to regain, and there's no doubt this Arsenal side looked short of it at the Emirates.

- Arteta winner eases pressure
- Wilshere delighted to be back
- Brewin: Jack gives Gunners a lift
- Blog: One step forward, two back as Mbia sees red

The return of Bacary Sagna and Jack Wilshere provided a pre-kick-off boost and despite so long out of the game the Englishman provided Arsenal's spark, particularly in the first half. He might have scored but for a Julio Cesar save, and the Brazilian was the outstanding player on the day.

There are those who will say Arsenal didn't play especially well, and they'll have a point to a certain extent. It's obvious there's a nervousness in the team that is going to take some time to shake, but the stats show that Arsenal were nowhere near as ineffective as in their previous two defeats, which garnered just two shots on target.

On Saturday, Arsenal had 22 attempts on goal, nine of them on target, and the fact that Cesar ought to take any man of the match award going tells you the Gunners began to click again as an attacking force. It wasn't perfect, by any means -- there were long periods when the goalkeeper was not troubled -- but the home side had the best chances in the game.

Santi Cazorla will have nightmares after blasting over from the penalty spot, and Mikel Arteta's scrambled winner will save his blushes, but the fact that Arsenal created chances, took shots and restricted QPR to just six attempts (just two on target) is a realistic measure of the performance of both teams.

Perhaps the fact QPR have yet to win a game meant some fans thought this game might be easy, but a team in that position is always going to fight harder to put an end to the kind of record nobody wants. QPR did that, worked extremely diligently to deny Arsenal time and space in the final third and were very well organised defensively.

Considering Arsenal's form pregame, this was never going to be a pushover, but what you want to see from a team that has suffered setbacks is the ability to scrap out a result, and Arsenal did that. It's not unusual to hear the likes of United and Chelsea praised for "not knowing when they're beaten" or winning when they've failed to perform as well as expected.

So, although Arsenal fans have every right to express concerns over the way the team has played in the past week, credit must be given for overcoming difficult opponents in difficult circumstances. They needed a win Saturday, it didn't matter how they did it, and they duly delivered.

That's not to say everything is rosy again, or that all the questions have been answered, but it's a step in the right direction and a valuable, and enjoyable, three points.