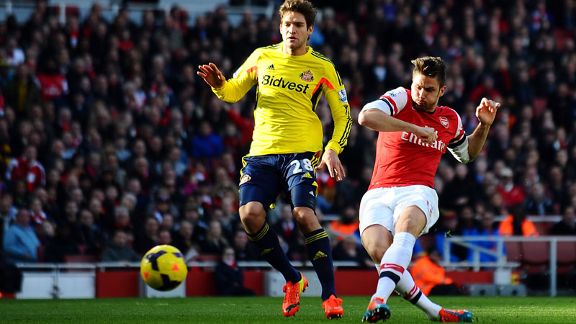 EmpicsArsenal's Olivier Giroud scores his side's first goal of the game.
On a day when Arsenal unveiled a statue of legendary forward Dennis Bergkamp, it was fitting that a contemporary front-man seized the chance to reassert his importance to the team. In a 4-1 win against Sunderland, Olivier Giroud announced his return to the side in style.

Wenger chose this game to afford a break to Mesut Ozil. Not only was the German left out of the XI, but he was given the day off entirely. His absence was no great surprise: in the build-up to the Sunderland match, Wenger spoke at length about the fact that Ozil was still reeling from the psychological impact of missing a crucial penalty against Bayern Munich.

Although the official Arsenal line is that Ozil was suffering with a minor thigh problem, it seems probably that he was being given time to heal psychological as well as physical wounds. No matter: Ozil's rest was long overdue.

- Randall: Too good for sorry Sunderland
- Cox: Three Things - Arsenal v Sunderland

However, the real story was the return to the starting line-up of Giroud. The Frenchman had been left out of Arsenal's last two games. As with Ozil, Wenger cited fatigue, but the fact that Giroud had been making headlines away from the pitch was surely a factor in the manager's decision.

Whatever punishment Giroud endured appears to be over. Having returned to the starting line-up, he took little time to set about making amends for his misdemeanours. Within five minutes, a neat Arsenal move ended with Jack Wilshere squaring intelligently in to Giroud's path. He swept his finish past former Gunner Vito Mannone and into the corner of the net. The celebrations were humble and muted, but it was an important goal for both player and club.

A weight immediately lifted from the Frenchman's shoulders. Within 26 minutes, he made it 2-0. This time, the goal came about due to Giroud's hard work and alert mind. He may not be the quickest over the ground, but nor was Bergkamp -- the Dutchman consistently proved that the first yard or two is in the head. In this instance, Giroud followed suit, anticipating a stray backpass from Santiago Vergini to latch on to the ball and slot under a stranded Mannone.

Arsenal's tremendous first half did not end there. Shortly before the break, they produced a goal of outstanding beauty to put the game to bed. Earlier in the season, Arsenal mustered a real goal of the season contender when a flurry of quick passes played Wilshere in to score against Norwich. Anyone dismissing that fantasy football as mere fluke should take a look at Arsenal's third against Sunderland. Laser-like precision allowed Arsenal to bamboozle the Black Cats' defence. Giroud's role was again crucial -- it was his intelligent flick that found the burst of Tomas Rosicky, who clipped brilliantly beyond Mannone.

At half-time, Sunderland made a double change in an attempt to reverse their fortunes. It didn't work: just 12 minutes in to the second half, Laurent Koscielny was left free to nod home a Santi Cazorla corner for his first Premier League goal this season.

Poyet's changes did eventually make an impact. When a late cross was lumped in to the Arsenal box, Wojciech Szczesny elected to punch rather than catch. The decision cost him his clean sheet. Substitute Emanuele Giaccherini met the ball with a sweet volley to give the travelling fans something to cheer.

More disappointing than conceding a sloppy goal was the injuries Arsenal suffered in defence. During the course of the 90 minutes, both Nacho Monreal and Laurent Koscielny had to be subbed off. With Thomas Vermaelen and Kieran Gibbs already out, Arsenal are on the verge of a potential injury crisis.

Nevertheless, Saturday's game was primarily a story of redemption. As the match approached its close, Giroud's name rang loudly around the bowl of the Emirates Stadium.

Giroud is not in Bergkamp's class. He may never be cast in bronze on the concourse around the Arsenal ground. However, if he can fire the Gunners to a first Premier League title in a decade, he will be never be forgotten. His performance ensures he will make headlines again -- this time, for all the right reasons.