Three things we learned from Arsenal's FA Cup win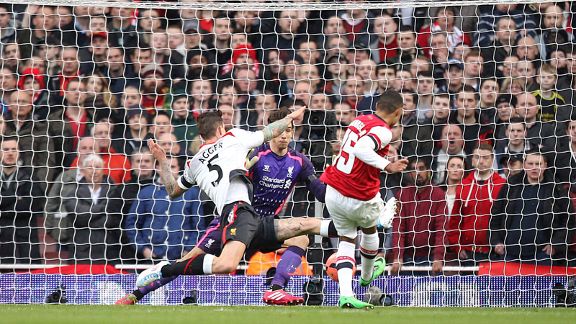 GettyImagesArsenal's Alex Oxlade-Chamberlain is hitting form at the moment.
Arsenal got some revenge for the 5-1 Premier League hiding they took at the hands of Liverpool by knocking Brendan Rodgers' side out of the FA Cup on Sunday. Here are three things we learned from that Arsenal performance.

Alex Oxlade-Chamberlain could fill an important gap

With Theo Walcott out for the rest of the season and Aaron Ramsey currently sidelined with a thigh injury, Arsenal have lacked both pace and drive from midfield. On Sunday, Oxlade-Chamberlain provided both of those things.

His give and go with Mesut Ozil was one of the few times Arsenal successfully got behind the Liverpool defence and his pull back for Lukas Podolski to score was unerringly accurate.

- Brewin: Arsenal avenge Anfield annihilation

Since his return from a cruciate knee injury, the young man has three goals and an assist to his name. He's a player with end product at a time when Arsenal need it most, and his substitution might well have been because Arsene Wenger sees him as a starter for the midweek game against Bayern Munich.

Although Tomas Rosicky was rested completely on Sunday -- you would imagine to ensure he's fresh for the Champions League -- Oxlade-Chamberlain's form might well tempt Wenger into using him on the right-hand side, knowing his pace and positive movement could cause the Germans some problems.

Arsenal still need to get defensively settled again

The result at Anfield will certainly have dented the confidence of a team whose season has, for the most part, been based on their defensive solidity.

Twice in the opening minutes against Liverpool they were cut open, twice Daniel Sturridge failed to take advantage. Even in the second half, when they'd well and truly settled into the game, Sturridge was given space in behind and once more spurned a great chance to score.

On another day it could have been much more costly, and with the calibre of player Arsenal are set to face on Wednesday night unlikely to be that wasteful, they have to tighten up.

It's not just a job for the back four, who all performed well, but further forward the midfield and wide players need to be quicker to stop supply from danger men who can provide that killer pass when given enough time and space.

Fabianski proves the value of a good number two

Although he's had his difficult moments at Arsenal, the Polish keeper has come through that and is trusted by Wenger. This was illustrated by the decision to use him away at Bayern Munich last season. Despite having been sidelined for over a year, Fabianski kept a clean sheet and did well in the next four games until injury struck again.

His presence isn't just a reassuring one for the manager, however. It's one that keeps current number one Wojciech Szczesny on his toes. The younger of the Poles has matured brilliantly in the last 12 months and if he continues to do so will surely be considered one of Europe's top goalkeepers in the near future.

- McNicholas: Fabianski is the unlikely hero

But having that competition is vital and it's something Wenger will have to address this summer. Fabianski has already confirmed he'll leave when his contract expires, and finding the same calibre of back-up won't be easy.

In the meantime, Arsenal have a healthy goalkeeping situation, and on Sunday's display showed that Fabianski is, like Szczesny, capable of match-winning performances. Quite the change from when goalkeepers used to cost the Gunners games.